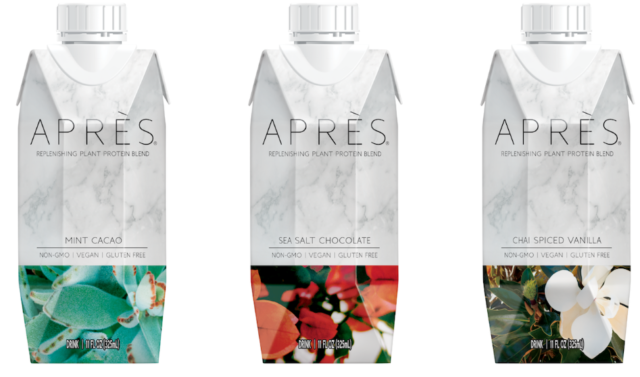 Our sources are telling us it goes great with Rum and/or Tequila. Healthy people drink too, you know.
Après, a San Francisco-based protein drink startup, has raised $1.1 million in a seed round led by Rocana Venture Partners.
The company, which launched online in November 2017, markets a line of plant-based protein beverages targeted at active women. Each SKU is vegan and non-GMO, contains 180 to 190 calories per 11 oz. Tetra Pak container, and has 13 g of protein. Varieties include Mint Cacao, Sea Salt Chocolate, and Chai Spiced Vanilla, with three more SKUs planned to launch later this year.
In addition to Rocana, the round included angel investors and re-ups from a previous $500,000 round. New participants this round include Cruise Automation CEO Kyle Vogt, former Rockstar Energy EVP Joey Cannata, Twitch co-founder Kevin Lin, and Cambridge Companies managing partners Filipp and Polina Chebotarev.
"We have advisers who are established startup entrepreneurs who have had multiple successful exits and they can help us figure things out as we go as entrepreneurs learning a new category, and we also have established food and beverage people and Rocana is certainly one of them," said Après co-founder Sonny McCracken.
Après is currently sold exclusively in 6-packs and 24-packs through the company's website, tapping into a consumer base cultivated via social media marketing. Initial sales were so strong, said McCracken and co-founder Darby Jackson, that it faced out of stock issues during Q1, resulting in a month-long outage and a 2,000 person customer waitlist for new and repeat shoppers. It has since restocked and filled back orders. The company is now producing in larger batches to prevent future sellouts.
"We had an established, formed Instagram community built around the brand that we had been developing for over a year prior to launching so it was fantastic to see that community we spent time getting to know while building this product actually convert to sales," McCracken said.
According to McCracken, the company has a clear vision of its target consumer — female fitness enthusiasts between the ages of 20 and 40 seeking a better post-workout beverage. This niche focus has allowed Après to advertise directly to that audience a year ahead of launch and gave the company the opportunity to make product and packaging decisions based on early follower feedback. However, Jackson said, the product is not exclusive to women and early direct-to-consumer sales data shows the customer base is broader and more geographically diverse than anticipated.
"It's really important for us to have a close, tight-knit relationship with our consumer," Jackson said. "We've been able to find out a lot about her, what flavors she wants and which to launch next, what studios we should be in."
McCracken and Jackson said they plan to expand Après into non-traditional channels, including fitness studios, before making a larger launch into more conventional retail. While they don't yet have a time frame for this expansion, McCracken said the addition of beverage industry veteran Joey Cannata as an investor and adviser will help foster smooth growth.
"While we are a digital first brand, we do spend a lot of time activating in real life, we do a lot of real life sampling, a lot of influencer-based events, so we're really bridging online and offline to build a community and have a relationship with our consumer," Jackson said. "And that will translate into a strong retail presence when she tells us she's ready for that."