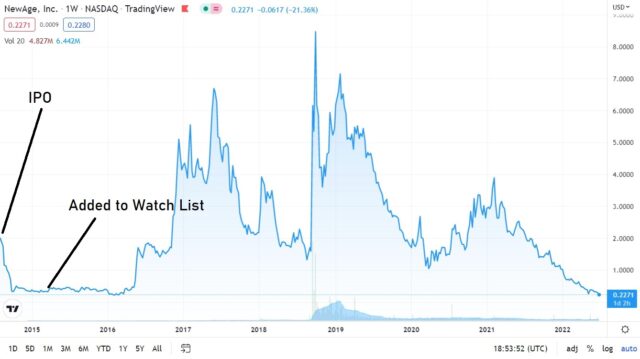 SeekingAlpha: 4 Catalysts That We Like Including a Valuation That is Too Cheap to Ignore (Altitrade)
One of our favorite beverage analysts does an abrupt change (from sell to buy)!
New Age went from an unknown in 2015 (a client called American Brewing) when it was trading at $0.25, to over $9.00 and a market darling in 2019, and then back to $0.25 most recently — and left for dead.
Oh, and by the way, we are getting back into the Beverage business after a 3-year hiatus! Long wait, but glad we did. The sector has been decimated, with even Boston Beer (SAM) down 70%.
DATED STREET COVERAGE (aka useless lol)

Summary
Once high-flying New Age has had its wings clipped and continues to suffer a hangover from the disasterous Brent Willis era.
With Willis now gone, Interim CEO John Brennan is attempting to breathe new life into the company and has taken steps in an effort to increase shareholder value.
Mr. Brennan's purchase of 500,000 shares of NBEV stock late last year, at $1.21 (average) a share, certainly shows that he is financially motivated to help turn the company around.
With a price-to-sales ratio of just 0.077 and a book value of 0.154, the current share price reflects very low investor expectations and a worst-case scenario of complete failure.
In the past, we have stayed away from NBEV stock, but given its current price level, we have initiated a long position and feel that the shares have simply become too cheap to ignore.
New Life For New Age
We have turned bullish on New Age, Inc. (NASDAQ:NBEV). That is something that we never thought would happen.
Four recent catalysts have caused us to do a complete 180-degree turn and aggressively begin accumulating the stock.
The resignation of former CEO Brent Willis.
The purchase of 500,000 shares by Interim CEO and Chairman Ed Brennan at a price of $1.21/share.
Valuation metrics that have become too cheap to ignore.
The announcement by the company that it has begun a review of strategic alternatives designed to maximize shareholder value.
New Age, Inc., formerly New Age Beverages, is a company that we have followed for many years. The stock was an absolute rocket ship in the days of the CBD-cannabis craze.
As is often the case, investors completely lost their perspective on both the potential size of the CBD-infused beverage market, as well as the challenges that companies would face from a regulatory standpoint.
Our September 2018 article on Seeking Alpha, Why The Road For CBD-Infused Beverages May Be Longer & Harder Than Investors Anticipate articulated our view that investors had gotten too far ahead of themselves, regarding their expectations for both the CBD beverage market and the company's potential for entry into this newly minted market.
Subsequently, we began shorting call options at around the $9.50 to $9.90 price area, expecting that all the rampant hyperbole that was taking place across the Internet would eventually wear thin.
Aside from the overly optimistic view of New Age by investors, the single biggest reason why we had serious doubts about NBEV's future was directly related to the company's CEO, Brent Willis.