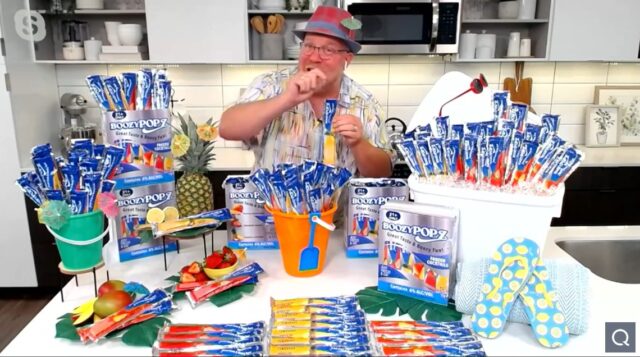 Added Iconic to the Beverage Stock Review Watchlist, "Top Beverage Stocks for 2022 and Beyond."
Before month end, we will come out with our complete list. We're tip toeing back in, cognizant of market conditions. But in many instances, enough is enough. Sam Adams/Boston Beer for example (SAM) is down 76% from $1,322 to $322. What the, did people stop drinking Beer, Truly and Twisted Tea?
We haven't. And neither have most of the people we associate with, after the market closes.
---
THE FIZZ HAS GONE, WILL IT RETURN?
---
We took a hiatus late 2019, from the lofty valuations, leaving a lot on the table – but in hindsight, we avoided the real carnage.
But now we're back. The "Top Beverage Stocks for 2022 and Beyond" will be out before the month end and there are plenty of bargains. This is our first broad based list since 2015.
If you weren't watching closely, Institutional Analyst Inc., launched the Beverage Stock Review in 2015, and within three years became the top-performing Beverage newsletter, on or off Wall Street, after picking the three top-performing stocks of the decade.
Those included were the Alkaline Water Company (WTER) American Brewing, later called New Age Beverages (NBEV), and Celsius Holdings (CELH).

From where we added them to the Watch List, Alkaline Water rose 450% from $0.94 to $5.18, New Age Beverages rose 3,660% from $0.25 to $9.40, and Celsius (not a client) rose 11,700% from $0.99 to $117. Past performance no indication of future, but dang, we hit it out of the ball park.

In comparison, Monster Beverage (MNST) traded from $45 in 2015 to $105 in 2020, a gain of 130%, and Dr. Pepper (KDP) rose from $15 to $35, also a gain of 130%.
Our first addition to the Watch List is an old name, the Alkaline Water Company (WTER) at $0.46 in early August, and we're already up 20%.
---
ICONIC BRANDS (ICNB) $0.20
Iconic Brands (ICNB) is our second name. Soon to be called Top Pop Packaging, we've been following the Company for at least four years. Back then they were a 'celebrity brand' working with Christy Brinkley, Danny Devito and Chaz Palminteri.
The company is now positioning themselves as a powerhouse private label packager, after a $40 million investment from institutional investors.
Total revenue for the quarter ended June 30, 2022, was $6,654,221, an increase of $6,069,307 compared to the same period in 2021, representing an increase of approximately 1,038% year-over-year.
And here's the interesting thing, the stock is down from where they announced the $40 million financing, announced a whole new management team of experts and announced the building of a 64,000 sq foot state-of-the-art bottling and packaging plant. By every measure, this is an entirely new company with enormous potential.
TopPop reached full-scale production capability the facility at the end of March 2022. Iconic invested approximately $4 million in facility improvements and packaging equipment.
The facility is expected to produce 80 million units by the end of 2022, up from 8 million units in 2020. Capacity looks like 150 million. Hola.
BARGAIN VALUATION? WE THINK SO.
This is not a trading idea, we are looking 2-3 years out, before watching how it trades on a daily basis.
Start your due diligence engines now.
Recent Headlines
Iconic Brands Unveils New Management Team.
Iconic Brands Announces Record Revenue for Second Quarter 2022
Iconic Brands Announces Appointment of Tom Martin as Interim CEO
Iconic Brands Bolsters its National Product Distribution with the Expansion of Sales Team
Iconic Brands, Inc. Announces $40 Million Dollar Private Placement and Restructuring
About Iconic
Iconic Brands, Inc (OTC: ICNB) is a leader in the development, design and delivery of alcohol and non-alcohol beverages. TopPop, Iconic's wholly owned subsidiary, is a leader in the innovation of low-calorie, "ready to go" drinks and ready-to-freeze (RTF) and ready-to-drink (RTD) products in sustainable, flexible and stand-up pouch packaging, and in the alcohol ice-pop and "cocktails-to-go" market. Iconic's brands include "Bellissima" by Christie Brinkley, a premium better-for-you and better-for-the-planet collection of prosecco, sparkling wines and still wines, all of which are certified vegan and made with organic grapes. Bellissima is strategically positioned with its zero sugar wines in the zero sugar beverage category. Iconic operates in multiple states, distributes around the globe and has Fortune 500 customers that include some of the world's largest alcohol beverage companies and brands.
Disclaimer
This press release contains forward-looking statements within the meaning of the "safe harbor" provisions of the Private Securities Litigation Reform Act. These forward-looking statements are made on the basis of the current beliefs, expectations and assumptions of management, are not guarantees of performance, and are subject to significant risks and uncertainties. These forward-looking statements should, therefore, be considered in light of various risks, including those set forth in Iconic's reports that it files from time to time with the U.S. Securities and Exchange Commission and which you should review, including those statements under "Item 1A – Risk Factors" in Iconic's most recent Annual Report on Form 10-K and Quarterly Reports on Form 10-Q. Not a client (yet).