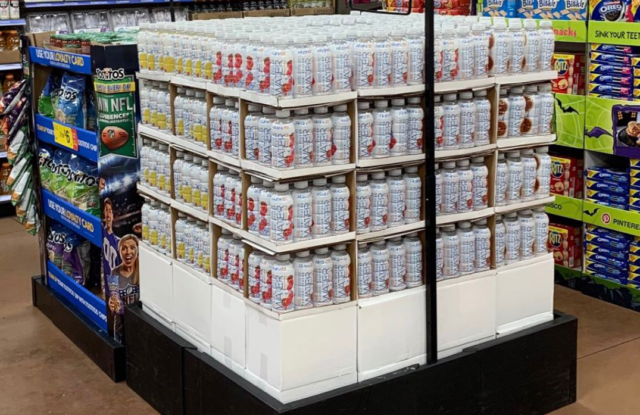 The Alkaline Water Company (WTER). Identifies $15 Million in Cost Savings and Margin Enhancements.
Nearly $200 million in sales over the last five years, the Alkaline Water Company tightens its belt. We expect a bright future, and no longer simply a buyout!
Look at these top-line numbers!
If we assume the price per bottle at retail is double what they sell to distributers and retailers – that means they've sold close to $400 million worth of water into the market, and that's a lot of water. A lot. Meaning that consumers absolutely love it, as much, or even more than we do.
---
---
Of course, as the current reasoning goes, similar to many beverage start-ups business plan, they did not keep an eye on the bottom line, as they were more interested in getting sales to a tipping point (over $30 million) – where they become an acquisition target.
Core Water had a similar game-plan, lost more and more money every year, and then got acquired for $500 million – which some estimate to be at 5X sales.
Core Nutrition Acquired for $525 Million.
This type of growth of course depends (requires) outside investor funding. `
Unfortunately, unlike technology or biotechnology stocks – in consumer products stocks, investors can get uneasy and start asking things like "..when the hell are they going to make money?"
And then if they lose patience, they sell and the stock craters to clearly undervalued. They start to assume management doesn't know what they're doing – when in fact they are smart, intelligent and doing the right thing.
This is how a company can go from $4.50 to $0.45 despite annual sales growing from $20 million to over $60 million!
INVESTORS LOSE PATIENCE
Then while rare, you get news like this signaling a significant change in. let's call it corporate culture.
Our thesis is when a company tightens it belt while still reporting breakneck growth numbers (30%), is that soon the only impatient shareholders will be the ones sitting on the sidelines. And at the same time still be an attractive acquisition candidate.
As in the past at varying juncture and reasons – this once again is one of our favorite beverage plays.
And news that Pepsi Co has taken a stake in Celsius (CELH) doesn't hurt the mood for beverage start-ups.
---
The Alkaline Water Company Completes Company-Wide Review and Identifies Approximately $15 Million in Cost Savings and Margin Enhancements
Amidst Enacting New Cost-Saving Measures, the Company Recorded Year-Over-Year Sales Growth for the Month of July of Approximately 30%
SCOTTSDALE, Ariz.–(BUSINESS WIRE)– The Alkaline Water Company Inc. (NASDAQ and CSE: WTER) (the "Company"), the country's largest independent alkaline water company and the Clean Beverage® company, today announced it has finished its exhaustive company-wide review and has identified approximately $15 million in margin enhancements and expense reductions compared to last fiscal year. The Company projects up to $10 million in savings and margin improvement within fiscal year 2023. An additional $5 million of projected savings before the end of fiscal year 2024 will result in an annualized reduction in the Company's cash burn rate of approximately $15 million when compared to fiscal year 2022, significantly improving its bottom line.
"Having completed a thorough review and evaluation, The Alkaline Water Company has identified and begun implementing a combination of cost-reduction measures and margin enhancements that, once fully implemented, will generate approximately $15 million dollars in annual benefits compared to last fiscal year," said Frank Lazaran, President and CEO of The Alkaline Water Company. "Over the past sixty days we have gained a confident understanding of how to optimize operational efficiencies and substantially reduce the Company's cash burn without compromising growth."
Last fiscal year, on its way to record revenue, The Alkaline Water Company invested heavily in organizational growth, professional services, and sales & marketing in order to drive Alkaline88® to new heights. Now, a firmly established top-ten value-added water brand, Alkaline88 has maintained its focus on sales while pivoting to reduce G&A and Marketing spending by as much as $8 million through various measures including:
Organizational restructuring
Reductions in professional services
Reductions in marketing and promotional expenses
Additionally, the Company projects up to $7 million in annualized margin enhancements as a result of:
Packaging changes
Improved manufacturing efficiencies
Pricing and promotional optimization
Decreases in freight costs due to an enhanced distribution network
"The combination of Alkaline88's rising brand power and new cost-cutting measures puts the Company in a strong position for much more efficient, and ultimately self-sustaining, growth," continued Mr. Lazaran. "This is evidenced by our first full month implementing our more cost-effective growth strategy, which we're pleased to announce was our best July ever for revenue. Our sales were up approximately 30% over last year, reinforcing our optimism about Alkaline88's future, continuing to drive topline sales on our new pathway to profitability."
Company management will share more details on their upcoming fiscal year 2023 first quarter conference call which will take place Tuesday, August 16th before market open. Call-in instructions will be provided in a future press release.
Past client, see reports for disclaimer and disclosure details.