A Taste of a Tinley Beverage (TheDeepDive).
Originally posted April 2019
"..while we received a buzz like we would have if it contained alcohol, there was no hangover in the morning – and it was much healthier to boot."
While 2018 was viewed as the year of the cannabis cultivators, 2019 is quickly shaping up to be the year of the cannabis manufacturer. As Canadian operators remain focused on cultivating, US based multi-state operators have already moved on from this phase and are now focused on the manipulation of the plant. This comes in the form of edibles, concentrates, and the currently niche market of beverages, the latter of which Tinley Beverage Co (CSE: TNY, OTCMKTS: TNYBF) is firmly focused on.
While other firms remain committed to extraction technology to differentiate their product line in terms of manufacturing, Tinley is centered on a market segment that has been relatively untouched. The beverage market has few product offerings within it, and those offerings that are available frequently leave much to be desired. Most comparable products within the segment are marketed towards the more experienced user, and even then a single can is intended to be shared among friends due to potency.
RELATED: New Report on Tinley THC Beverages
Tinley has taken a different approach in this respect. The product itself was developed as a result of their founder, Jeff Maser, wanting a healthier alternative to alcoholic beverages, while still getting a "buzz" from a beverage that can be consumed in a social setting, similar to alcohol. What this lead to is a product line that is highly comparable to that of alcohol in the form of THC beverages.
The key differentiator with Tinley products is that they taste excellent. Not only this, but they are intended to be consumed in a social setting – they come in a four-pack for this very reason. Rather than getting blitzed off a single drink, the intention is that the 5mg THC beverages will allow the consumer to drink two or three while relaxing with friends, similar to that of most alcohol-based beverages.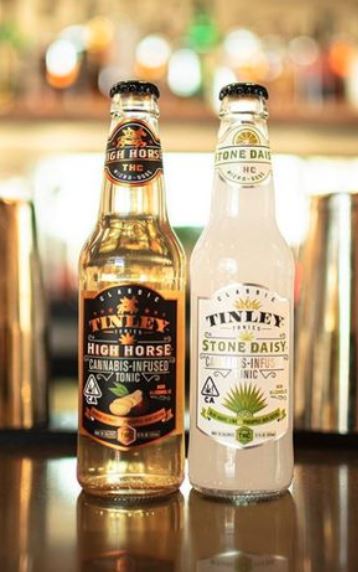 We were fortunate enough to get our hands on a sample of Tinley's Lime Margarita this past weekend thanks to a timely trip to California. As our Twitter followers are well aware, this sampling was extremely well received by us. The product itself was delicious – we would best describe it as a lightly carbonated lemonade. It went down very easy, which could be very potent on a hot summers day in the heart of Cali.
Effects from the beverage were felt much quicker than expected, with the first inklings of a high being felt roughly seven minutes after the first few sips (we timed it for this article). We're told that this quick onset is a result of the way in which the THC has been infused into the beverage, a process for which they spent considerable time perfecting while dealing with ever-changing Californian regulations.
After finishing our drink, effects were felt for at least forty five minutes. While not overpowering, the single beverage had us feeling all right with a good buzz. If consuming in a more social setting, we would have been able to comfortably have one or two more before the effects were too much.
Overall, we were extremely impressed with Tinley's product. While we expected a slight "green" taste due to cannabis being involved, no such taste was there. It simply tasted like a carbonated lemonade. And while we received a buzz like we would have if it contained alcohol, there was no hangover in the morning – and it was much healthier to boot.
While not presently on store shelves at the time of writing, we're told that they'll be available again by the end of the month. Due to Californian regulations on cannabis changing for the umpteenth time recently, Tinley had to pull their product from store shelves over labeling requirements. This has also lead to the need for the firm to change the name of its products – which can be seen in some photos in their latest corporate presentation if you have an eye for detail.
In the mean time, the firm has been heavily focused on expanding its production capabilities. While it currently has a facility in operation capable of bottling three million bottles per year, there is a facility currently under construction that will be able to handle up to four times that capacity. Expected to be fully operational by the end of Q2, the facility will allow Tinley to also enter the co-pack segment of the market – but that's an article for a different day.
For those anxious to get to their hands-on Tinley product, it's well worth the wait. We'll be sure to send out an update the moment we receive word that it's hitting store shelves again – it shouldn't be much longer.
The beverage market may be a niche as of yet, but it's certainly one we'll be keeping an eye on if this is the caliber of product that can be expected.