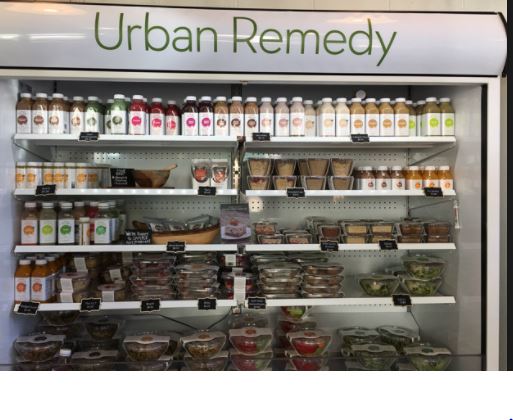 Today, "ultra-fresh" food and beverage producer Urban Remedy announced it had closed a $17 million round of capital, with General Mills' venture arm, 301 INC, leading the round.
CEO Paul Coletta said that the key to the selection of 301 was the synergies between the two companies.
"Having a partner that's aligned with us not just on the values of the company but also in the vision of how we want to grow it, [was] huge for us," Coletta said. "Money is cheap today, there's a lot of options out there for great businesses."
Urban Remedy currently sells its line at 13 freestanding retail locations in the Bay Area and 30 branded, refrigerated kiosks located in California Whole Foods Markets, as well as on an ecommerce platform. The retail locations sell 75 to 100 pre-prepared items that are produced the night before, stocking each kiosk with 20 to 30 products that include packaged meals, snacks and beverages. Currently the retail storefronts are the largest sales channel, with the kiosks the fastest growing.
Coletta did not disclose the company's exact sales but noted that the comparable same store retail sales were up over 25 percent in 2017, and that company as whole has seen more than two years of over 100 percent growth.
The capital will go towards expanding beyond its current staff of 200 employees, focusing on key senior level positions, as well as investment in production capacity and equipment. Urban Remedy will also expand into a new, still unannounced, market in 2018. In total, the company expects to add 60 new kiosks in 2018 in Whole Foods as well as other premium partners.
"We're going to grow really responsibly from here," Coletta said. He added that Urban Remedy has been slower to scale its e-commerce platform because "a lot of companies in the fresh food business go into e-commerce without an objective to be profitable. We won't do it unless we can be profitable."
Key to this growth will be the pairing of the kiosks and retail locations in an omnichannel focus that allows consumers to "shop us the way [they] want to," Coletta said. The hope is that Urban Remedy can avoid many of the struggles fresh-focused companies face in scaling by giving the brand more access points to the consumer, and also minimizing food waste in production.
While a focus on fresh is a challenge for Urban Remedy, for 301 it also is one of the main opportunities for growth.
"This [investment] is a continuation of a strategy that we've been on for a long time, and that is consumers are looking for fresh, closer to source, closer to whole foods. They are continually redefining health and healthful eating experiences," John Haugen, VP and General Manager of 301, told NOSH. "When you look at this [deal] and overlay our current strategy, it checks all the boxes in our investment thesis."
The deal is the ninth investment for 301 since its launch roughly two years ago. Although it is 301's first investment into a brand that operates its own storefronts, Haugen noted that Urban Remedy's product mix does have similar attributes to those of other 301 investments. Portfolio companies Farmhouse Culture, Beyond Meat, Tio Gazpacho and Rhythm Superfoods all share a commitment to plant-based foods. However, Haugen added, it is the omnichannel nature of Urban Remedy's business as well as the packaged format that cemented 301's involvement.
While the road ahead may be more complicated for a fresh focused business, Coletta says the company is ready to grow, especially now with the strategic assistance from former Annie's CEO John Foraker, who joined the company's board, and 301.
"If [fresh] was easy, everyone would have done it. That's what's exciting," Coletta said. "As long as the consumer is telling us they want, we're up for the challenge."