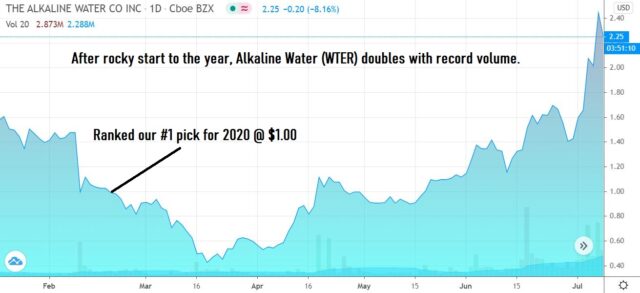 Impressive News Month After Month, Volume Finally Arrives, News Recap..
Roth Equity Sets $3.50 Price Target.
---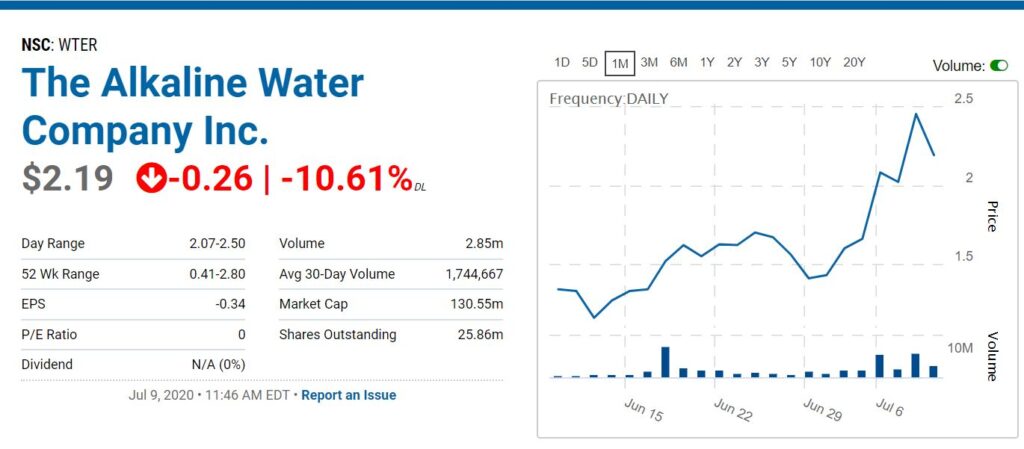 ---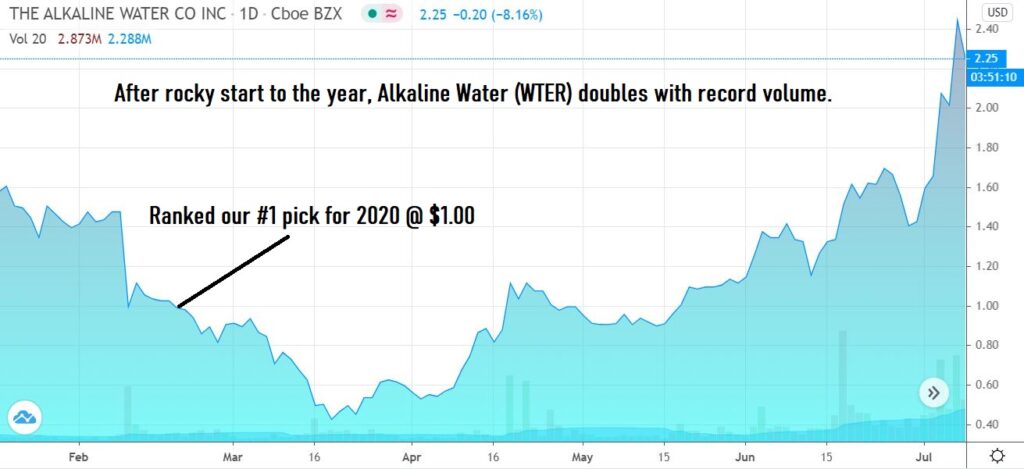 ---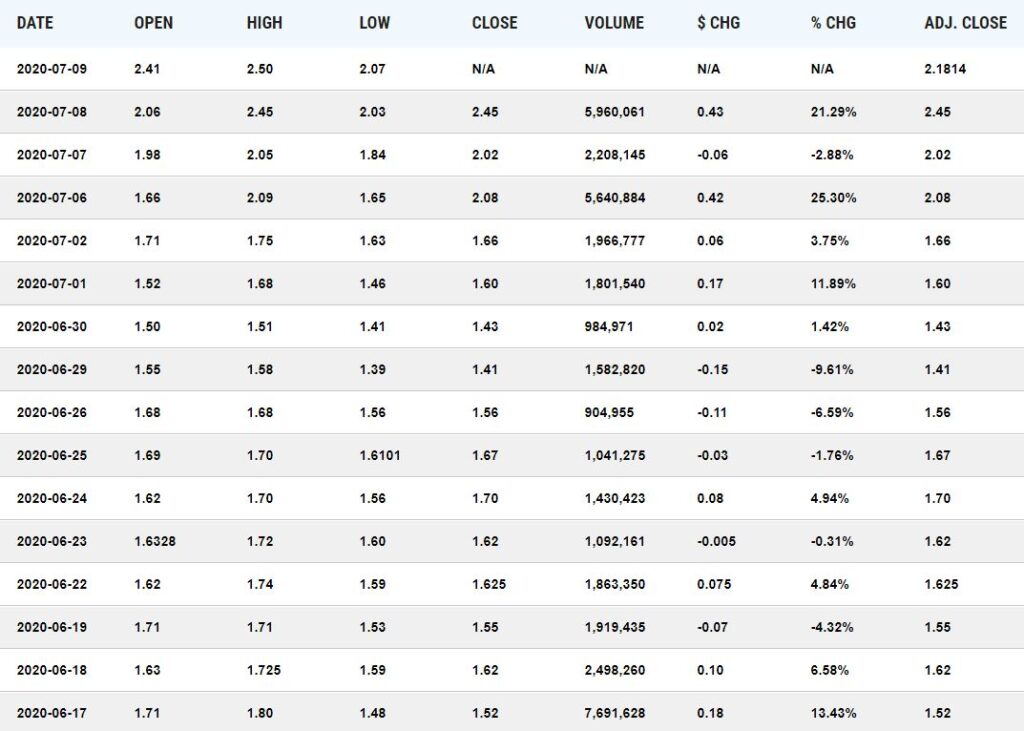 ---
SIGNIFICANT NEWS RECAP
FEBRUARY: Alkaline Water Company (WTER). Our #1 Beverage Pick for 2020.
While we have followed WTER's amazing progress from zero to near $40 million in annual sales, we feel yesterday's 'air-pocket' type trading with the shares dropping to $1.00 (-38%) on 3.7 million shares opens a rare opportunity for venturesome and sophisticated investors to initiate positions.
MAY 27th: The Alkaline Water Company Reports Record April Sales of $7.1 Million.
April sales grew approximately 171% year-over-year with demand for the flagship brand, Alkaline88®, at an all-time high.
JUNE 4th: Summer Commitments From 12,500 Retailers for Flavor Infused Products.
The Company today announces that ShopRite will soon carry four flavors of the A88 Infused™ line across all 280 locations.
"We continue to gain momentum on our east-coast expansion efforts and are seeing strong pull-through for our A88 Infused™ brand," stated Richard A. Wright, President and CEO of The Alkaline Water Company. Over the last few months, we have added thousands of new stores to our total retail count of approximately 70,000 retail locations nationwide.
JUNE 17th: The Alkaline Water Company (WTER) Achieves Record Fourth Quarter With Over 50% Growth.
Fiscal Q4 Revenue Highlights (Unaudited):
(All amounts are in U.S. dollars)
Revenue of approximately $12.0 million – up 51% over the prior year
Represents revenue growth of 42% over fiscal Q3
"This quarter's results are a great way for our Company to end our fiscal year. We now have tremendous momentum going into fiscal 2021.
JUNE 19th: The Alkaline Water Company Inc. (NASDAQ: WTER) Featured in ROTH Equity Research Report $3.50 Price Target.
The Alkaline Water Company Inc. (NASDAQ: WTER) was featured in a recent equity research report published by ROTH Capital Partners LLC. The report reads, "We initiate WTER, a leading value-added water supplier, with a Buy rating and $3.50 price target.
Shares should benefit from: 1) Visible, accelerating distribution, including large, underpenetrated channels (convenience stores, hospitality) and markets (Northeast); 2) strong underlying functional water category growth driven by health and wellness consumer trends; 3) SKU augmentation, driven by flavor-infused alkaline water/aluminum innovation; 4) new CBD launch, accelerated by "88's" proven brand and built mass distribution and; 5) valuation ~4 turns blow peers."
To request access to the full report, visit Roth at http://nnw.fm/l4Rxd
Valuation Compares Favorably to Celcius Holdings (CELH) $12.78.
We added Celcius to the Watch List at $0.99 and it has gone on to be a stellar performer, up over 1,200% since 2015. The shares recently took flight after reporting the three months ended March 31, 2020, revenue was $28.2 million, an increase of $13.7 million, or 95%, from $14.5 million for the 2019 quarter.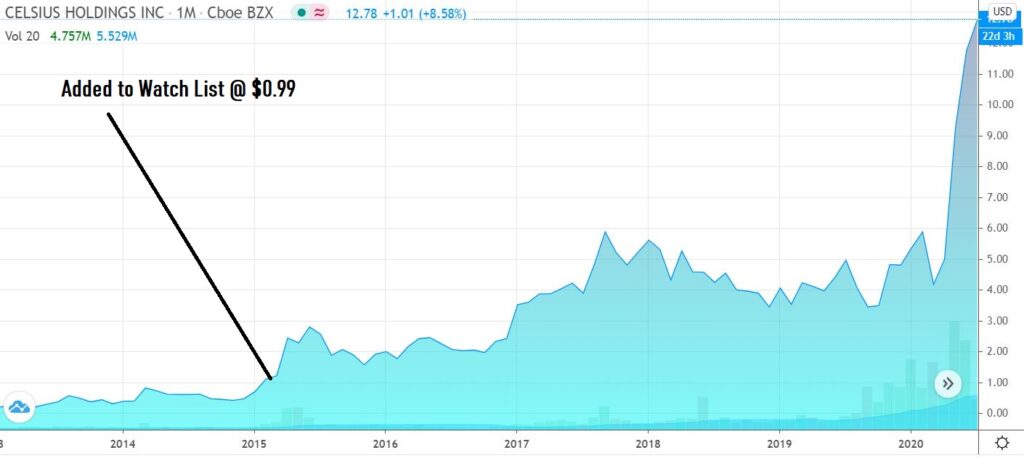 While we don't expect the Alkaline Water Co to trade at the same valuation (10x sales) as Celcius (we never thought Celcius would trade at 10x lol) it is something worth noting.
The beverage sector is one that can fuel the enthusiasm of investors as assumptions of fast growers – especially smaller ones – lead to thinking that they may someday grow to a true national presence. Like over $500 million in sales-type national presence.
Here's how the numbers stack up:
Celcius Holdings trading at 11 times sales with – with 70 million shares outstanding.

---
The Alkaline Water Company at 3.5 times sales – with 25 million shares.

Similarly valued Alkaline Water would trade at $352 million or..well the number is so high we dare not calculate it.
But you can do the math!
Ga-head.
(Client, please see full report for full disclosure and disclaimer details)