Recent Price Drop Opens Opportunity to Acquire Meaningful Positions.
Our short and long term enthusiasm over the Alkaline Water Company boosts it to the top of the list of beverage companies we follow.
In small-cap stocks, it's often difficult to acquire a meaningful position due to a lack of volume. Bragging rights (and real profits) can only go so far if a stock you buy triples, but you were only able to buy $10,000 worth before it tripled.
While we have followed WTER's amazing progress from zero to near $40 million in annual sales, we feel yesterday's 'air-pocket' type trading with the shares dropping to $1.00 (-38%) on 3.7 million shares opens a rare opportunity for venturesome and sophisticated investors to initiate positions.
OPPORTUNITY? WE THINK YES!
As such we are price and time stamping our interest by calling this our #1 beverage stock idea for 2020. We are starting a detailed report covering all aspects of their progress including a) their flagship product Alkaline88 which can be found of the shelves of Walmart and Publix and (well see graph below), b) their launch of single-serve flavored beverages into 10,000 stores this quarter and their upcoming launch (called a massive opportunity by the company) of CBD related progress.
This is not Monster Beverages (MNST), but they do have $4 million in the till. Plenty for the coming year. Gross profit for the 3Q was $3.4 million with 40% gross margins (love the beverage business).
---
Yeah, baby, this is the beginning, not the end!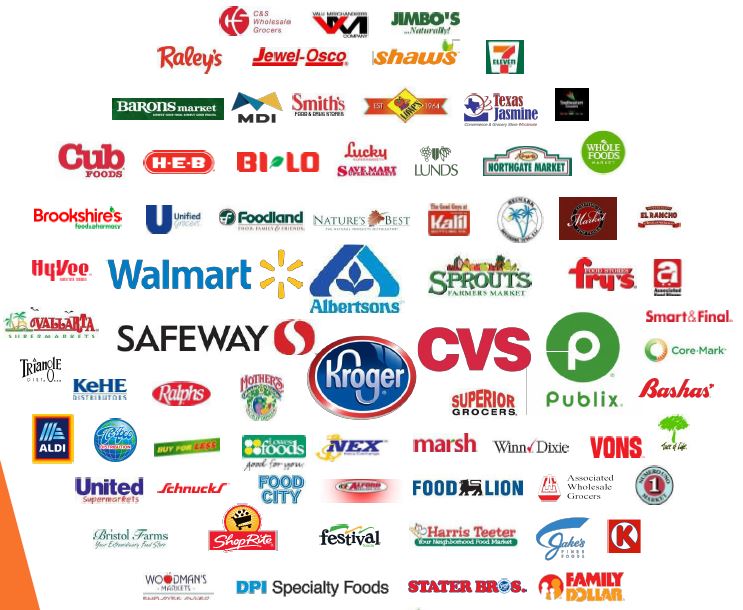 ---
We have a long track record at showing up the right time and the right place – and the stars (looking out a couple of years) look 'just-perfect' here! Yes, we are a 'for-hire' research firm, but our number one goal is to make money for our friends and subscribers. Trust us when we say it makes life easier on all counts.
We are not a trading oriented firm so while we'd like to pick the perfect pronouncement point, it doesn't matter much whether we pound the table at $0.90 or $1.20 versus where we think the stock will be three years from now. We've seen this movie and near-term trading will be a distant memory if the stock is trading over $3.00 as both HC Wainwright and Cannacord targeted just a few days ago.
What caused yesterdays price dislocation was a combination of news which understandably confused investors who don't closely follow the company and its progress, resulting in a "sell first, ask questions later" type trading.
The company announced they decided not to proceed with the acquisition Aquahydrate with minimal explanation other than the board determined it was the best business interest of Alkaline88 to focus on our core business and to wish AQUAhydrate's team, all the success in the future. Our thoughts here: it would have been nice to brag about acquiring a competitor founded by P. Diddy and Mark Wahlberg and one of the richest grocery store founders on the planet, but if the board felt the integration was going to be more difficult than originally anticipated – we trust their judgment to cut bait now, rather than have home-grown organic growth muddied up for a couple of years.


Growth slowed to 9% in the most recent 3rd quarter due to 'timing' issues – while noting the 4th was off to a great start with January sales up 30%. 9-month numbers were up 20% growing from $24 million to just shy of $30 million!

Our thoughts here: all consumer products companies (large or small) face the ongoing possibility of quarter-to-quarter or even year-over-year growth slowing, stagnating or even dropping. Sometimes it can be caused by losing a major account or gaining fewer accounts. Our opinion for investors investing for the long haul is that while building a position over a period of years 'generally speaking' it's better to add more to your core holdings after news of a modest quarter and a stock drops 30% – over adding to your position after a blow-out quarter and the stock jumps 30%.

What's more important is the long term trajectory path the company is on. Here's WTER's long-term trajectory, remembering the company had like $600 in sales 6 years ago! Also, think of seeing this sales chart 15 years from now and wishing "I wish I would have found this 5-years after they launched and not 20 years after."

Well, the time to turn that wish into reality is now.

Link to 3rd Quarter Conference Call Below.
NOTHING TO $40 MILLION IN 6 YEARS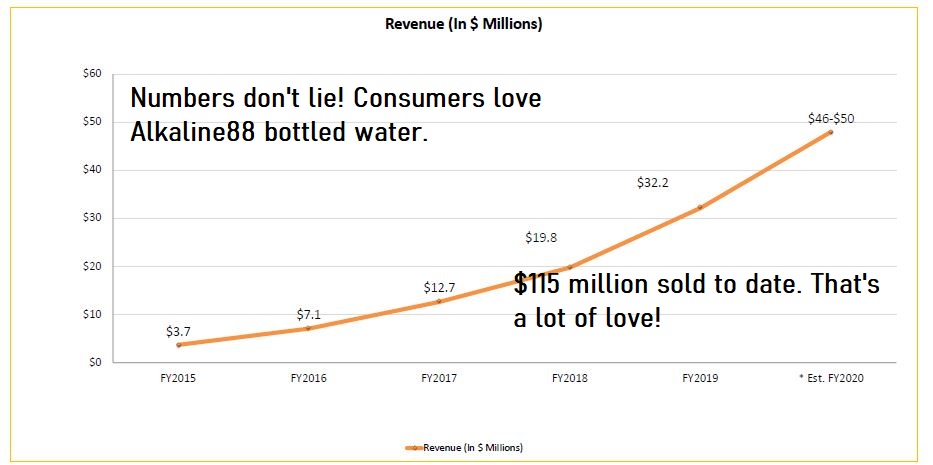 ---
$40 MILLION SOUNDS LIKE A LOT, BUT IT'S A DROP IN THE BUCKET OF BOTTLED WATER MARKET NOW APPROACHING $40 BILLION ANNUALLY. AND PEOPLE ONCE THOUGHT YOU COULDN'T SELL WATER SINCE ITS FREE!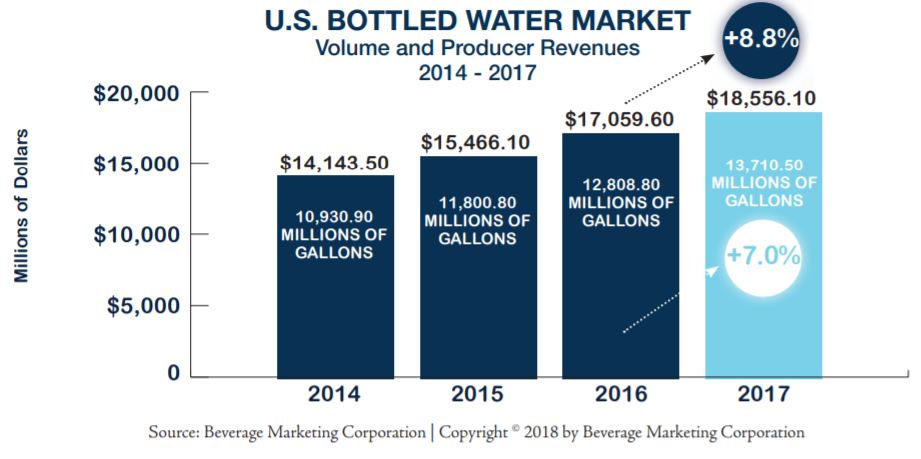 ---
RECESSION, DEPRESSION. THIRST DON'T CARE. PEOPLE HAVE TO DRINK.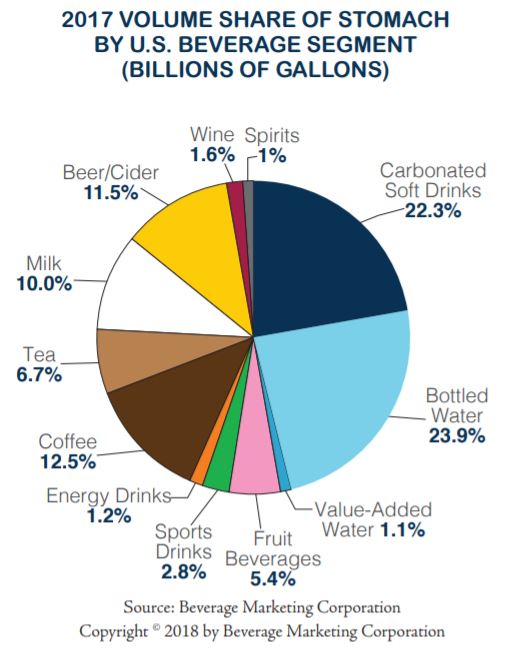 ---
Alkaline Water Company, Inc. (WTER) CEO Richard Wright on Q3 2020 Results – Earnings Call Transcript
---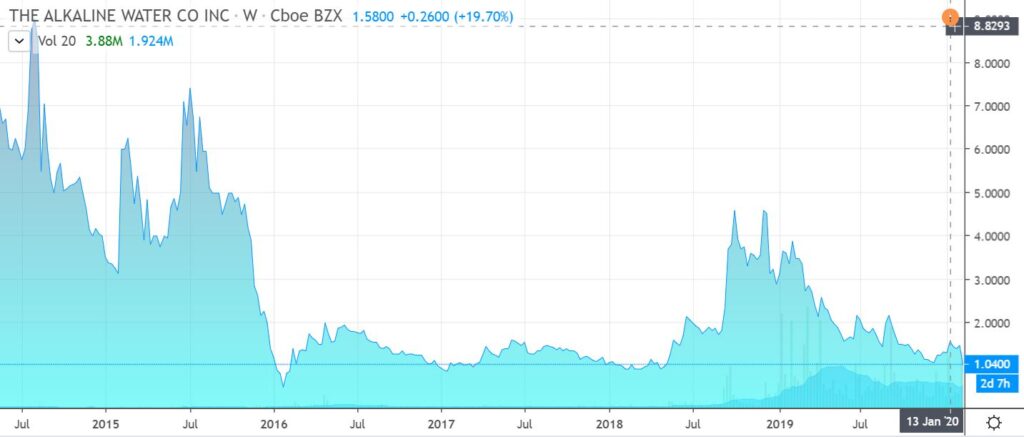 ---
*There is no telling what the future holds and it is up to each investor to decide whether they want to invest in a company before they IPO, shortly thereafter, 5 years later or 20 years later. There is no Ricky Right or Wrong. It's just up to your personal ability to deal with the share price volatility and/or corporate risks of any early-stage company.

A lot of investors made a lot of money buying Apple Computer in 2015 at $120 a share. Just not as much as people who bought 30 years earlier in 1985 at $1.20, five years after it went public – in it's 'early days.'
---
SUBSCRIBE SO YOU DON'T MISS OUR UPCOMING REPORT ON THE ALKALINE WATER COMPANY.

(Client, see reports for disclosure and disclaimer details)
WTER, #WTER, $WTER