Tinley's Formulations Rate High on Leafly.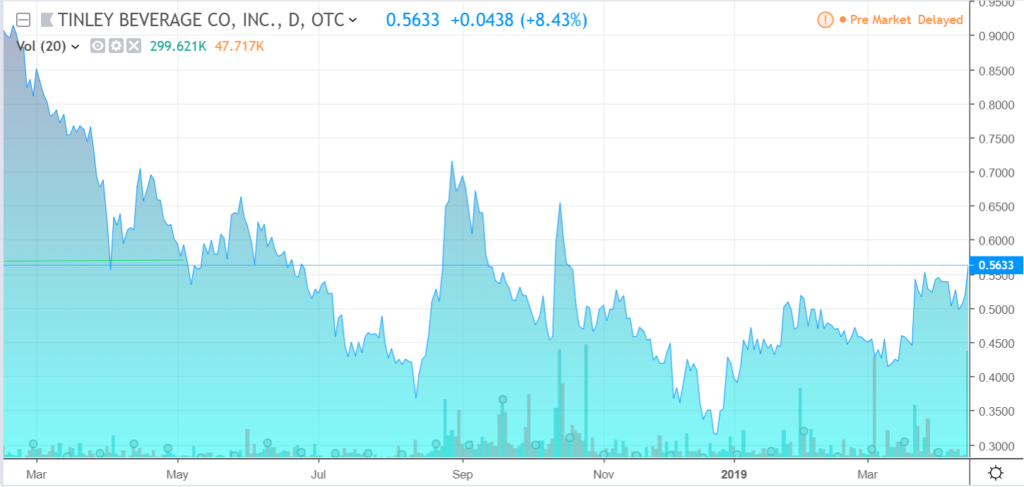 Tinley's share price is beginning to move nicely higher, up 8% in US trading ($TNYBF) and 7% in Canadian trading ($TNY) yesterday. Possibly in 'delayed' reaction to news of the completion of their Phase II bottling plant which has the capacity of 3 million bottles annually.
The same press release stated things were progressing nicely with regards to the Phase III plant, which will be capable of producing BOTH Tinley branded products AND brands owned by third-party Co-packing clients, which could eventually number into dozens.
We have read that Tinley is also in the process of naming their cocktail infused brands which have been tested marketed to perfection with regards to taste, strength (mg THC) and onset and offset timing (meaning how fast effects are felt and how fast they curtail).
We thought we'd clip and paste some amazing reviews posted on Leafly which has 15 million monthly visitors.
Most recent Tinley Beverage Corporate Presentation.
LEAFLY TESTIMONIALS.
When we read these testimonials, the whole idea of a THC infused beverages 'gelled' in our understanding of the products and potential of the company and its potential co-packing clients.
"Was fortunate enough to get to try the margarita and a sample of the Mule! Love the taste of both! Love that uplifting effect the margarita drink has, great for social gatherings for sure! Excited to see what the team have up their proverbial sleeves next." RM
"This drink was made to taste exactly like a Margarita, I was very impressed. I look forward to enjoying this on the weekends after long days at the office!" AS
"Had to try it for myself, and I wasn't disappointed! The flavor is surprisingly spot one! The dosing for me was perfect not to heavy, a perfect body high with a nice head buzz. Love that this is nonalcoholic, its nice to have choices these days. If you like margaritas and edibles this is the perfect cannabis cocktail for you." YG
"Was in California for a trip and had the opportunity to try it out. My friend told me about it and thought I'd give it a shot. Taste was spot on, the high was nice and good for social gatherings. Much better than smoking. Loved it." TK
"I had to see what all the fuss was about. I have to be honest, I was not expecting the taste to be so spot on. A little pricey for me but It's a great drink no doubt about that." AK
"These are dangerous hahaha. Don't drink all 4 if you don't smoke. Tastes great like a real margarita. :)" AM
"All I can say is WOW! Picked up a 4 pack of the margarita and can say had the best night of my life. Might have got a bit carried away as they tasted so dang good that I had 3 in less than an hour. I had such a great buzz on that lasted for what seemed hours. This is my new go to and will be telling all friends. Hope to see more flavors from this company like a long island or even a rum would be cool. SOLD!" LD
"I purchased a 4 pack of the Margaritas at 420 Central the other day out of curiosity & I am glad I did. I usually don't write reviews unless I am very impressed or caught by surprise, in this case I am both. The drinks flavor ravages the taste buds to the point that I called every one of my friends who smoke weed to inform them, "You know that new taste you're looking for? Well, I found it." I am sick of smoking weed, honestly. It's not only the health reasons but I hate smelling like marijuana all the time. It's nice to be high & not have everyone know it in public. I am in my late 30's & work in a professional setting so I feel like people who don't smoke look at me like I'm immature for being at work smelling like marijuana. No need for me to carry the cologne in my suit to work anymore. I will be a lifetime customer for sure. Once the price comes down a little bit I will have this stocked in my fridge for every day of the week." NMJ
"The margarita tastes great with low calories! It took effect quickly and gave me a happy buzz. I will definitely be stocking the fridge with these for weekends around the pool." TD
"By far, this is the best tasting and smooth THC infused drink on the market. Tinley took their time and nailed it! I tried some at a taste test a while back and yeah it was good but did not purchase. Decided to bite the bullet and pick some up for a party over the weekend and this was the life of the party! Everyone was asking about it and wanting to try it out. Wish I picked up more than the two 4 packs. Everyone loved the taste and the buzz that it gave you. I can say, it does not taste like weed or anything related to an earthy taste you get with all the other THC products. You would think it's a mildly carbonated margarita. Then the buzz hits you. I was sitting out, just enjoying the sounds and atmosphere around the pool like none other. But it also allows you to be quite social and talk to anyone. I can't describe the feeling but you need to try this drink!! Just like other's who have reviewed, makes you quite social and your enjoyment of a party just intensifies! Great job Tinley!" THB
And on and on.
About The Tinley Beverage Company
The Tinley Beverage Company (Santa Monica, California) created the Tinley™ Tonics, Tinley™ '27 and Hemplify® line of cannabis and hemp CBD beverages. The Hemplify® CBD beverages are available in mainstream stores in California, while the Tinley™ Tonics and Tinley™ '27 line of liquor-inspired, non-alcoholic, cannabis-infused beverages are available in dispensaries throughout the State. The Company is also building a 20,000 square foot cannabis beverage manufacturing and distribution facility in Long Beach, California.
Forward-Looking Statements
NEITHER THE CANADIAN SECURITIES EXCHANGE NOR ITS REGULATIONS SERVICES PROVIDER HAVE REVIEWED OR ACCEPT RESPONSIBILITY FOR THE ADEQUACY OR ACCURACY OF THEIR PRESS RELEASES.
Press release referred to contains or refers to forward-looking information and is based on current expectations that involve a number of business risks and uncertainties. Factors that could cause actual results to differ materially from any forward-looking statement include, but are not limited to, delays in obtaining or failures to obtain required governmental, environmental or other project approvals, political risks, uncertainties relating to the availability and costs of financing needed in the future, changes in equity markets, inflation, changes in exchange rates, fluctuations in commodity prices, delays in the development of projects and the other risks involved in the mineral exploration and development industry. Forward-looking statements are subject to significant risks and uncertainties, and other factors that could cause actual results to differ materially from expected results. Readers should not place undue reliance on forward-looking statements. These forward-looking statements are made as of the date hereof and the Company assumes no responsibility to update them or revise them to reflect new events or circumstances other than as required by law.
Products, formulations and timelines outlined herein are subject to change at any time. All figures CAD unless otherwise indicated.
For further information on The Tinley Beverage Company, please contact:
The Tinley Beverage Company Inc.
3435 Ocean Park Blvd. #107
Santa Monica, CA 90405
(310) 507-9146
[email protected]
Twitter: @drinktinley
Instagram: @tinleybeverage
www.drinktinley.com
OTCQX:TNYBF CSE:TNY
A client, Institutional Analyst has been compensated by the Company with two-thousand five hundred dollars per month and a TBD amount of shares and/or options.