There's good news on the horizon for Tinley Beverage Co (CSE: TNY). Last night, it was revealed that their exclusive Canadian manufacturing partner, Level Up Infusions Ltd, has been granted a Health Canada license, enabling the firm to meet the terms of the contract manufacturing agreement entered into.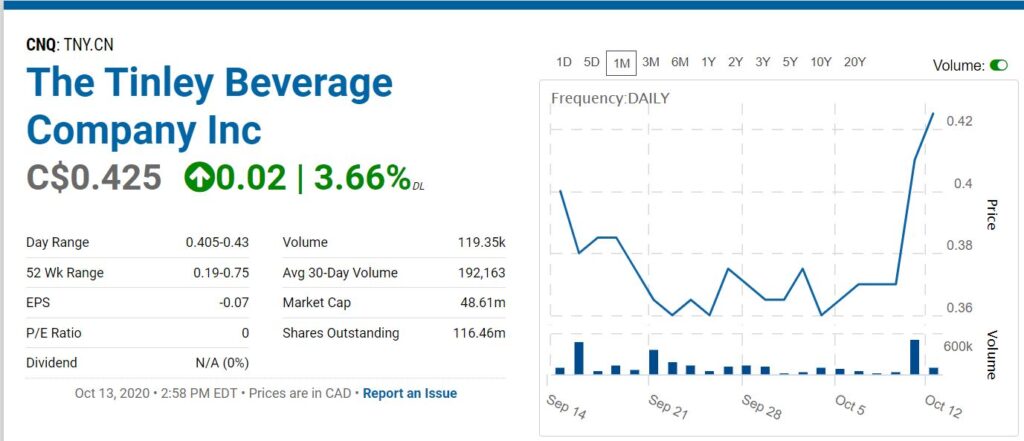 Initially announced in August via the filing of the second quarter 2020 management discussion and analysis, Tinley has entered into an exclusive contract manufacturing agreement with that of Level Up Infusions Ltd. At the time of announcement, Level Up was awaiting approval from Health Canada for the granting of its micro-processing license, enabling the firm to manufacture cannabis infused products.
One condition of the agreement being entered into, was the stipulation that Level Up must have received the necessary licenses from Health Canada prior to October 30, 2020. With this condition now having been met, the two firms are able to proceed to the next step in their arrangement.

The positive here for Tinley, is that its cannabis infused beverages might just hit store shelves before the end of the year, dependent on the timing of submittals to the regulatory agency. A "seasoning period" exists for cannabis infused products to be submitted to Health Canada for approval before sales can commence, which will take no more than 60 days. More formally, this is referred to as the "Notice of Product Introduction," which as of late is believed to be taking less and less time for approvals to occur. If submitted in the next week or so, this could potentially lead to products hitting store shelves early to mid December, in time for the holiday season.
In terms of the company that Tinley has elected to forge ahead with for the contract manufacturing arrangement, it's been discovered by some savvy followers of the company that Level Up Infusions is owned and operated by a prominent figure within the beverage alcohol space.

Next, based on the text included in the filed MD&A, the two firms will work towards finalizing product minimum orders and delivery commitments. It should be noted here that while the 60 day period for a new product is being worked through with Health Canada, the products themselves can be manufactured in the meantime. This enables product to hit store shelves immediately after the approval comes through from the regulator. With any luck, you might yet find yourself sipping on a cold Tinley beverage over the 2020 holiday season.
Tinley Beverage Co last traded at $0.41 on the CSE.
Client see past reports for disclosure and disclaimer details