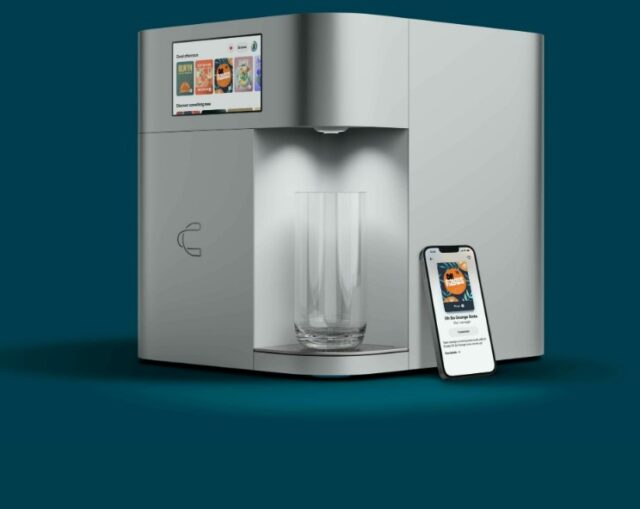 Introducing Cana: A molecular beverage printer in every home helps us take a giant step towards decentralized manufacturing. Plans to do to the beverage industry, what streaming content did to the television content.
Doing away with purchasing at stores, limited selections and plastic bottles and cans.
Meet Cana One from Cana on Vimeo.
The industrial revolutions of the 20th century brought unfathomable efficiencies and scale to consumer products. Thanks to centralized production, repeatable processes, and automated machines, what were once hand-crafted luxuries – from knives and jars to eyeglasses and automobiles – became affordable commodities.
But we've paid a high price for ubiquitous, cheap consumer goods: Massively scaled centralized production, which requires moving lots of natural resources to a central manufacturing facility then distributing the finished goods out to consumers, has led to extraordinary resource inefficiency, extreme levels of waste and a significant increase in atmospheric carbon.
Interview at 51:50 Mark
Message in a bottle: Beverages are trashing the planet
When evaluated across the landscape of consumer products, few industries are as natural resource inefficient, unnecessarily carbon intensive, and waste creating as the global beverage industry.
To make a single liter of orange juice takes 40 liters of water to irrigate the orange tree. To make a single bottle of wine takes over 600 liters of water to grow the grapes.
RELATED: How Many Grapes are in a Bottle of Wine?
The $2 trillion beverage and bottling industry uses over 100 million acres of land, requires hundreds of trillions of liters of water, and emits 543 million tons of CO2 to produce over half a trillion single-use plastic, glass, and aluminum beverage containers each year – and most of these bottles are filled almost entirely with water.
We spend energy to produce, process, and bottle these containers of mostly water, then use carbon-emitting trucks to move them to climate-controlled warehouses, grocery stores, and ultimately our homes (often storing them in the energy-hogging "beer fridge" in the garage). We try to recycle – but recycling uses lots of energy, and two-thirds of our plastic ends up in landfills nonetheless.
This convoluted system may have made sense when safe tap water was rare, carbon costs were ignored, and technology needed to be centralized to give us the convenience, cost, and features we've come to enjoy from mass manufactured consumer goods. But looking at this system today, it just seems absurd! It has to change.
Fortunately, we have the power to transition to a new system of manufacturing. Thanks to scientific breakthroughs in flavor chemistry and engineering advances in fluidic technology, the global beverage and bottling supply chain can be rebuilt. We are entering the era of decentralized manufacturing.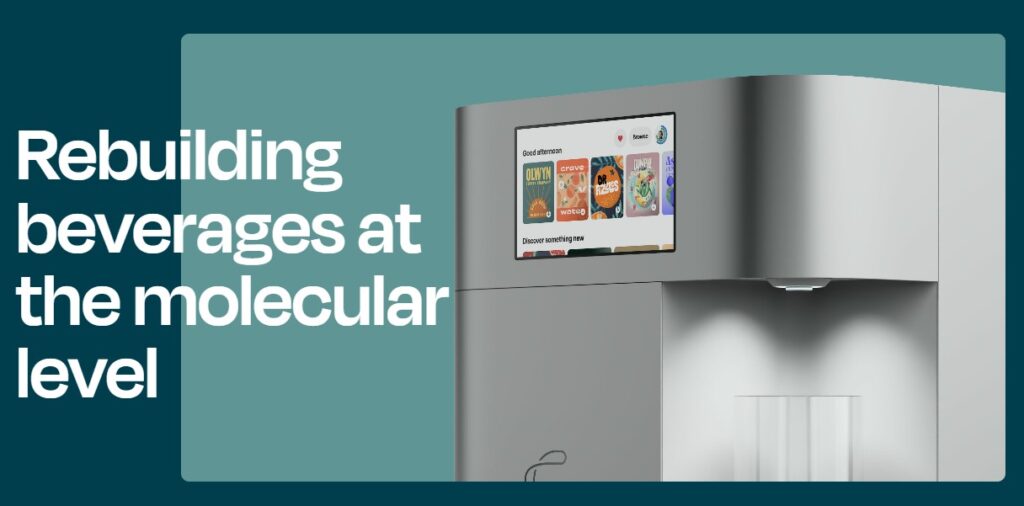 Science in every sip
In 2018, I read published research about breakthrough understandings in the science of flavor.
Most beverages are mostly water. The compounds that make up the odor, color, and flavor of a beverage typically represent just 1% of the total volume of that beverage. Soda and juice: 7% sugar, 92% water, 1% flavor compounds; coffee and tea: 98% water, 2% flavor compounds; beer: 94% water, 5% alcohol, 1% flavor compounds; wine: 87% water, 12% alcohol, 1% flavor compounds. That 1% really makes all the difference.
Research scientists tried to identify what flavor compounds found in a beverage really mattered to the human palates – what compounds could we actually taste? They selected a complex red wine and, using analytical chemistry, identified the 500+ unique flavor compounds (comprising just 1% of the wine) found in the wine. They then recreated the wine using water, alcohol, and just a few dozen of those flavor compounds – the ones that they determined, through much trial and error, really mattered. A human taste tester could not tell the difference between the original wine and the molecular replica.
There were similar demonstrations with other types of wine, various juices, different types of coffee and tea, and so on. It appeared likely that it may be possible to recreate nearly any beverage from water and just a few dozen common flavor compounds.
Over a dinner with several scientists in late 2018, we discussed the research findings. "You could synthesize any beverage without ever needing to grow plants!" a colleague declared.
But since I was a kid, I was always enamored with one TV show and its prospect of an infinitely abundant future.
"Why not just make the Star Trek Replicator and let people print any drink they want, when they want, right in their own home?"
We drank some wine and the concept for Cana was born.
A new supply chain: Decentralized manufacturing
Making a molecular beverage printer meant inventing a new kind of supply chain. Provided that the printers can use materials mostly sourced locally (i.e. tap water), we can replace old industrial supply chains with ones that are more nimble and more redundant, moving production to the point of consumption — the home. This new decentralized supply chain would use less energy and less carbon and cost less to operate, sourcing and shipping only the flavor compounds that make up the 1% of each beverage, rather than all the water and packaging.
Eliminating the need for irrigating and growing crops, producing and processing beverages in factories, bottling and packaging beverages, and shipping and wasting containers, would have a dramatic impact on the water, energy, carbon, and cost of the entire beverage supply chain, accelerating the inevitable shift from centralized manufacturing to decentralized manufacturing.
The great news for consumers: Decentralized manufacturing doesn't require any compromises. In fact, it will upgrade our quality of life – having a beverage printer in every home will eliminate the need for mundane errands to pick up and transport beverages, free up space in refrigerators and cupboards, and save money. A molecular beverage printer in every home would create infinite options for personalized products – low-sugar, low-alcohol, vitamin-boosted, and custom flavor options – across all traditional beverage categories. A molecular beverage printer would unleash entirely new beverage categories and establish a platform to enable creators to build digital-only beverage brands.
From idea to lab
Emboldened by our initial research and excited to tackle the scientific and engineering challenges ahead, Cana moved from an idea to the lab in early 2019.
The Cana team began a research program here at The Production Board, our holding company established to solve the most fundamental problems that affect our planet by reimagining global systems of production across food, agriculture, biomanufacturing, human health, and the broader life sciences.

In parallel, they began building and testing hardware prototypes that could print liquids on the sub-microliter scale into water in just a few seconds reliably, affordably, and conveniently, minimizing time and space requirements, using a universal flavor cartridge system.

After successful demonstrations from our analytical chemistry and engineering programs, we graduated Cana from the lab into a newly founded company. The Cana team is one of the most technically diverse, passionate, and creative teams I have seen operate. Their advancements keep showing us what's possible as we pursue this extraordinary mission.

To date, we have spent nearly three years and $30 million building out Cana's proprietary hardware platform and chemistry system enabling the printing of any beverage, anytime, with ultra-low waste

We hit many breakthrough milestones in 2021 and are excited to start sharing them publicly.

We know we can print an infinite number of beverages from a few core flavor compounds. We know we can do this across many existing beverage categories – juice, soda, hard seltzer, cocktails, wine, tea, coffee, and beer. Consumer taste testing panels score our printed beverages at the same or better taste levels as commercially available alternatives. Our hardware designs will print beverages quickly and accurately. Our pricing and the footprint of our hardware can yield significant savings and advantages for most households.

We've also realized that we can reimagine the beverage industry from the ground up. Our focus is not about mimicking existing beverages, but rewriting and inventing entirely new beverage categories, delivering radically different brands, and enabling creators to develop their own beverage brands digitally.

What started as aspiration has become inspiration.

Today, we are moving Cana forward with full-scale commercial development. Over the coming months, we will invest in growing the Cana team, unveil our initial product design and features, demonstrate beverage printing across many beverage categories, and share timelines and ordering details for our first product.

While we are still a few years out from landing a molecular beverage printer in every home, we are excited to share our journey with you as we try to decentralize manufacturing and reinvent the wasteful and unsustainable supply chain of bottled beverages.

To accelerate the shift to decentralized manufacturing, join the Cana team and follow us on our audacious mission.

Together, we can Reimagine Earth.

Dave Friedberg
Founder & CEO
The Production Board

• • • • • • •

‍About Cana (www.cana.com)
Cana is the world's first molecular beverage printing business with a mission to change the way the world produces and consumes. Cana uses novel science and engineering to solve some of the world's most complex food and beverage industry issues. Cana is based in Redwood City, CA, and is funded by The Production Board.

About The Production Board (www.tpb.co)
‍Founded by Dave Friedberg, The Production Board (TPB) is a holding company established to solve the most fundamental problems that affect our planet, by reimagining global systems of production across food, agriculture, biomanufacturing, human health, and the broader life sciences. TPB builds new businesses from scratch based on emerging scientific discoveries, partners with exceptional talent, and provides them with the capital, infrastructure, and market insights needed to deliver at least a 10x improvement in the cost, energy, time, or carbon footprint of conventional systems. TPB is backed by leading strategic and financial investors, including Alphabet, Allen & Company LLC, Cascade, Emerson Collective, and funds and accounts managed by BlackRock, Baillie Gifford, Koch Disruptive Technologies, Counterpoint Global (Morgan Stanley), Foxhaven Asset Management, and Arrowmark Partners. Learn more about our work at www.tpb.co.

For media inquiries please contact [email protected]