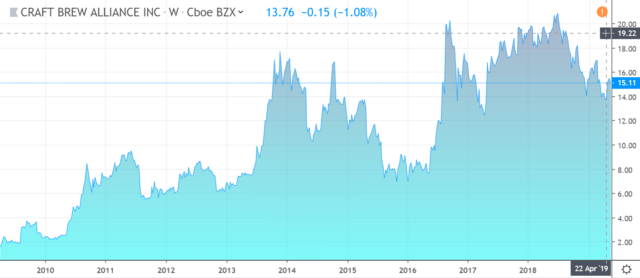 Fascinating Report. Highlights:
* The market is not only discounting an AB/I buyout of CBA but summarily dismissing the potential for a third party acquirer. The majority of CBA analysts and commentators have focused almost exclusively on the possibility of a binary outcome for CBA: AB/I either buys CBA or CBA remains independent. I don't believe the outcomes are limited to these two, and the recent influx of foreign investment would seem to support this contention.
RELATED: Shareholder says SELL, SELL, SELL!
*If AB/I was not interested in KONA, why would its entire sales force and distribution arm be put behind the KONA brand now on an expanded national level? If AB/I is no longer interested in the KONA brand, why would it undertake joint marketing initiatives that make CBA more attractive to other third-party potential bidders following the 8/23/19 qualifying offer expiration date? A successful result would only seem to put AB/I's interest in owning the international distribution rights at greater risk by attracting a third-party change in control.
Added to Top Beverage Stocks for 2019.
Added to Top Beverage Stocks for 2015.
*A financial buyer could then divest the breweries and contract brew with the new owners for production needs. KONA would then be left as a fast growing virtual brewer with little overhead. KONA could then be spun off into a new publicly traded vehicle, which would be a very attractive craft beer stock, especially if continued growth affords pricing power. My point here is that the sum of the parts here is far greater than the current $300MM market cap afforded by the market. KONA alone should be worth a minimum of $500MM and more if there are multiple bidders which I would expect in the event CBA passes on a deal.
*There has been virtually no insider selling in BREW shares. One AB/I director sold less than 2K shares a month ago, but insiders have held onto over 2 million shares of stock for a considerable period. In July 2018, BREW shares traded as high as $21. This represented a 14% discount to the minimum AB/I buyout price of $24.50, yet there was no insider selling. If insiders had significant concerns regarding the deal or the future of CBA, with or without an AB/I buyout, you might expect an insider to take some off the table, given the small discount to the minimum deal price. But none did.