"A Possible Trifecta? Can Life On Earth (LFER) Be Our Third Large Beverage Stock Gainer?"
After a long and ongoing search effort – we have finally come across a publicly traded Beverage Incubator – which is poised to create all sorts of news and excitement in the next couple years. Follow this small emerging player with a market value of only $10 million, as it continues to build, acquire and search for the next big breakout brand.
While NYC based Life On Earth (LFER) is smartly focusing on the fast-growing health/wellness and all-natural category, success in the future can come from anywhere including enhanced water, energy drink-shots and of course from the red-hot CBD infused category – which is just beginning to launch with no clear leader.
LFER's small valuation is similar to The Alkaline Water Company (WTER) and New Age Beverages (NBEV) who had massive valuation gains this year. Both were valued at under $15 million when the Beverage Stock Review first found them and signed them as clients, a couple years back. Early investors (who held) reaped remarkable returns of 4X and 30X.
Click here to read the report.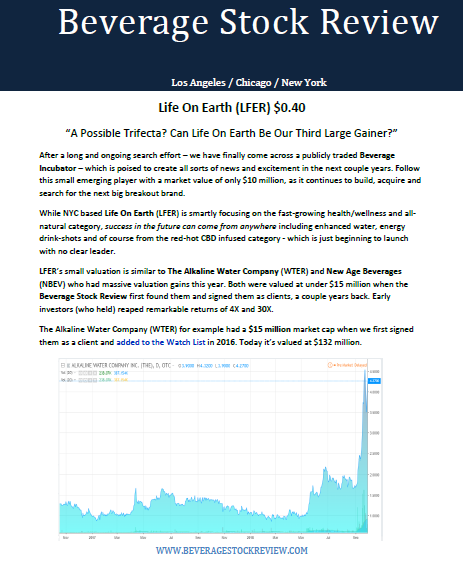 About Institutional Analyst Inc.
Headquartered in Chicago, Institutional Analyst introduces small and microcap companies to professional and high net worth investors. The firm publishes research reports, corporate updates and operates several leading industry-specific investment websites, including the Beverage Stock Review, Internet Stock Review, the Biotech Stock Review, the Marijuana Stock Review, the Alternative Energy Stock Review and IA's Special Situation Research. As disclosed fully in the research report and all progress reports, Institutional Analyst has been compensated by The Life On Earth to provide ongoing coverage which is delivered to its subscriber base and made available online.
About Life On Earth, Inc.
Life on Earth, Inc. ("LFER"), a "Make It Better" consumer based Brand Accelerator Company is a dynamic and innovative all-natural consumables products company focused but not limited to the beverage and snack industry. At LFER, we have established a unique business model focused on building brands within the alternative beverage and snack space. Our brand model is complimented by our strong distribution subsidiaries in New York and California. The growth of "game changing" marketing applications, human capital resources and follow-on investments will help us deliver a fully integrated platform for the emerging and functional brand category that are good for our consumers as well as the environment.
Visit: www.lifeonearthinc.com
SAFE HARBOR ACT
Forward-Looking Statements: This release contains statements that constitute forward-looking statements within the meaning of Section 27A of the Securities Act of 1933, as amended, and Section 21E of the Securities Exchange Act of 1934, as amended. These statements appear in a number of places in this release and include all statements that are not statements of historical fact regarding the intent, belief or current expectations of Life on Earth, Inc. its directors or its officers with respect to, among other things: (I) financing plans; (II) trends affecting its financial condition or results of operations; (III) growth strategy and operating strategy. The words "may," "would," "will," "expect," "estimate," "can," "believe," "potential" and similar expressions and variations thereof are intended to identify forward-looking statements. Investors are cautioned that any such forward-looking statements including those relating to the Company's financing being adequate for the Company to close this acquisition, being able to place its products in the retail stores, to launch its growth and expansion plans among others, are not guarantees of future performance and involve risks and uncertainties, many of which are beyond Life on Earth, Inc.'s ability to control, and actual results may differ materially from those projected in the forward-looking statements as a result of various factors. No information in this press release should be construed in any way whatsoever as an indication of Life on Earth, Inc.'s future revenues, financial performance or stock price. More information about the potential factors that could affect the business and financial results is and will be included in Life on Earth, Inc.'s filings with the Securities and Exchange Commission at www.sec.gov.
Contact:
Life On Earth, Inc.
(646) 844- 9897
[email protected]
Institutional Analyst Inc.
Roland Rick Perry
[email protected]
310-594-8062