1 YEAR CHART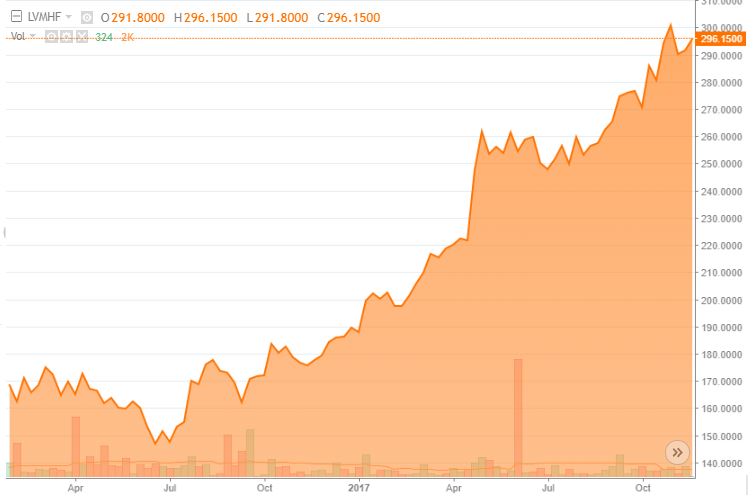 Colgin Cellars, and Its Unique Limited-Production of Napa Valley Red Wines, Joins the LVMH Group
Ann Colgin, Founder of Colgin Cellars, and her husband Joe Wender, have chosen to partner with the LVMH Group, with the will to preserve their long-term commitment to the quality of their Cabernet and Syrah wines, as well as the spirit of excellence that has inspired them and their team for a quarter century.
PARIS & SAINT HELENA, Calif.–(BUSINESS WIRE)–Under the terms of the agreement, Ann Colgin and Joe Wender will sell a 60% stake to the LVMH Group while continuing to hold 40% equity in the business and maintaining their leadership functions. Their talented winery team will continue to be led by Ann Colgin & Joe Wender along with COO, Paul Roberts and Winemaker, Allison Tauziet.
Founded by Ann Colgin in Napa Valley 25 years ago, Colgin Cellars' reputation is rooted in the unmatched quality of its four wines – "Tychson Hill" Cabernet Sauvignon, "Cariad" Napa Valley Red Wine, "IX Estate" Napa Valley Red Wine and "IX Estate" Syrah – which have developed an iconic status among wine collectors. The winery is located at the northern end of IX Estate in the Pritchard Hill area of Napa Valley – untouched by the recent Napa Valley fires – and offers inspiring views of Lake Hennessey.
Since its creation, excellence and quality have been at the heart of Colgin Cellars' entrepreneurial journey. The winery's success was built on its ultra-premium, limited production wines, all of which are consistently highly rated by several industry sources. The wines are sold primarily through an exclusive client list and also distributed to high-end restaurants and retailers in the US and over thirty countries globally.
"After a social introduction to Mr. Arnault several months ago and discussions with the LVMH team, I realized that I could not find a better partner for Colgin Cellars to preserve our founding spirit and our exquisitely handcrafted red wines, into the future. We are happy to join the LVMH Group to continue to offer our loyal customers the unique and high-end experiences we've been creating for them, for over a quarter of a century." Ann Colgin, Founder of Colgin Cellars.
"We share with Colgin Cellars the same desire to offer the very best quality products. I am therefore delighted to welcome Colgin's unique heritage into LVMH, reaffirming our strategy of selective acquisition of the best existing terroirs, and enriching our collection of iconic wines such as Château Cheval Blanc, Château d'Yquem or Domaine du Clos des Lambrays." Bernard Arnault, Chairman and CEO of LVMH.
LVMH
LVMH Moët Hennessy Louis Vuitton is represented in Wines and Spirits by a portfolio of brands that includes Moët & Chandon, Dom Pérignon, Veuve Clicquot Ponsardin, Krug, Ruinart, Mercier, Château d'Yquem, Domaine du Clos des Lambrays, Château Cheval Blanc, Hennessy, Glenmorangie, Ardbeg, Belvedere, Chandon, Cloudy Bay, Terrazas de los Andes, Cheval des Andes, Cape Mentelle, Newton, Bodega Numanthia and Ao Yun. Its Fashion and Leather Goods division includes Louis Vuitton, Christian Dior Couture, Céline, Loewe, Kenzo, Givenchy, Thomas Pink, Fendi, Emilio Pucci, Marc Jacobs, Berluti, Nicholas Kirkwood, Loro Piana and Rimowa. LVMH is present in the Perfumes and Cosmetics sector with Parfums Christian Dior, Guerlain, Parfums Givenchy, Kenzo Parfums, Perfumes Loewe, BeneFit Cosmetics, Make Up For Ever, Acqua di Parma, Fresh, Kat Von D and Maison Francis Kurkdjian. LVMH's Watches and Jewelry division comprises Bvlgari, TAG Heuer, Chaumet, Dior Watches, Zenith, Fred and Hublot. LVMH is also active in selective retailing as well as in other activities through DFS, Sephora, Le Bon Marché, La Samaritaine, Royal Van Lent and Cheval Blanc hotels.
Colgin Cellars
Colgin Cellars' mission is to craft wines of exceptional quality that inspire joyous experiences and lasting memories. Founded in 1992, Colgin Cellars produces red wines of harmony and precision from extraordinary hillside vineyards in the heart of the Napa Valley. Over several years, Ann Colgin selected sites of unique location and distinctive geological profiles. Colgin Cellars' enduring vision is to be sustainable stewards of the land and enhance the enjoyment for its clients by crafting wines that express perfume, freshness, and minerality while capturing the intensity and luscious fruit of the Napa Valley. Esteemed wine writer Robert Parker has named Colgin "one of the fifty greatest wine estates in the world".
Contacts
LVMH
Jean-Charles Tréhan, +33 1 44 13 26 20
or
LVMH, Analysts and Investors
Chris Hollis, +33 1 44 13 21 22
or
US:
Kekst
Jim Fingeroth / Molly Morse / Anntal Silver
+1 212 521 4800
or
France:
DGM Conseil
Michel Calzaroni / Olivier Labesse / Hugues Schmitt / Thomas Roborel de Climens
+33 1 40 70 11 89
or
UK:
Montfort Communications
Hugh Morrison / Charlotte McMullen
+44 203 770 7903
or
Italy:
SEC and Partners
Michele Calcaterra / Matteo Steinbach
+39 02 62 49 991