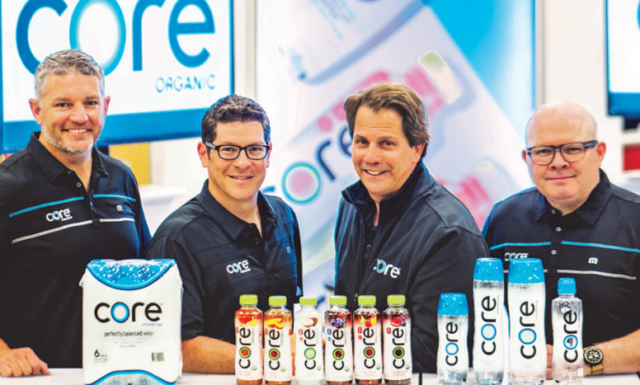 Poster adds this additional information at the bottom of the article, which we'll move to the top!
With roughly $65,515,410 raised to date by Core Nutrition, as noted on formds.com (one of the best places to see who's raising capital), Lance and other investors hopefully have a game plan to be acquired by a $1b+ beverage manufacturer/distributor.
Coke has Smart Water, Pepsi dominates low cost water and doesn't want to compete against its own Gatorade (electrolyte waters directly compete with sports drinks), and Dr. Pepper has Bai's new electrolyte water. There are other large players that could be interested, but most are international, currently exist outside of value added waters and would need huge war chests just to compete. There is at least one, which I think would greatly benefit from a strategic shelf stable water based on its recent acquisitions, even with Core's extra packaging costs. I'll leave that up to everyone's imagination though 🙂
Core is a well-executed brand, but unfortunately with the large amount of capital raised, the investors's time window, and the limited number of potential acquirers, this will require some impressive dealing from Lance, even more than NOS or Fuze. I wish him well and I hope he pulls this off!!!
Johnny
SEC Filing: Core Raises $39M In Past Year – BEVNET
Functional beverage company Core Nutrition, LLC has raised almost $39 million in funding over the past 12 months, according to documents filed with the U.S. Securities and Exchange Commission (SEC).
The company raised $16.2 million in an equity funding round from 46 investors last year, according to a Form D filing dated May 24, 2017. An amended version of the document, filed earlier this month on April 3, showed Core had raised close to $22 million since then, bringing the total offering amount to approximately $38.7 million from 48 investors.
The El Segundo, Calif.-based brand, founded in 2015, markets two product lines: Core Hydration, a line of purified water marketed as having a "perfectly balanced" pH of 7.4, and Core Organic, a line of low-calorie flavored water and juice blends made with organic ingredients. A third line called Core Energy, an energy drink made with organic natural caffeine, is listed on the company website but has not yet launched in stores.
Core Hydration is distributed by Dr Pepper Snapple Group as part of the beverage conglomerate's allied brands portfolio.
Core has generated attention for its use of celebrity brand investors, including singers Katy Perry and Ellie Goulding, model Karlie Kloss and DJ/producer Diplo.
However, according to the amended filing, music producer Lukasz Gottwald, better known as Dr. Luke, is no longer listed a member of the board of directors. Gottwald, a multiple Grammy Award-nominee who has composed hit songs for a range of pop stars, including Perry, was listed as a director in the April 2017 filing.
Gottwald was sued in two states in 2014 by singer Kesha for sexual assault, battery and harassment. The charges were dismissed by a judge in New York in 2016; later that year, the singer dropped a second suit filed in California. Gottwald, who alleges the charges were fabricated as a way for Kesha to break her contract with his record label, to which she was signed as an artist, is currently in the midst of counter suing the singer and her former attorney, Mark Garagos, for defamation.
Linda Collins, wife of Core CEO Lance Collins, is listed as a new board member in this month's filing, along with Collins himself, operating manager Paul Nadel, 7-Eleven executive Jesus Delgado-Jenkins, Renee Karalian, Lawrence Spielman and entertainment manager Larry Rudolph.
Along with brands like Smartwater, LIFE WTR and Essentia, Core is fighting for a share of the increasingly lucrative super-premium water category. According to data from market research group IRI, Core Hydration had over $93 million in multi-outlet plus C-store sales in a 52-week period ending on January 28, up approximately 60 percent from the prior year. The brand is sold at retailers such as 7-Eleven, Albertsons, Kroger, Safeway and Target.
Core declined to comment on this story.