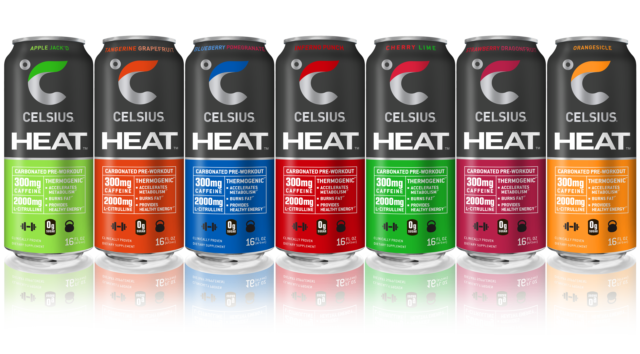 Adding to Focus List, Along With Few Others.
A short while back, Celsius Holdings, Inc. reported disappointing Q2 results that surprised most, if not all, investors. The stock's initial reaction, when trading opened, was decidedly bearish with order imbalances halting shares for a short period of time.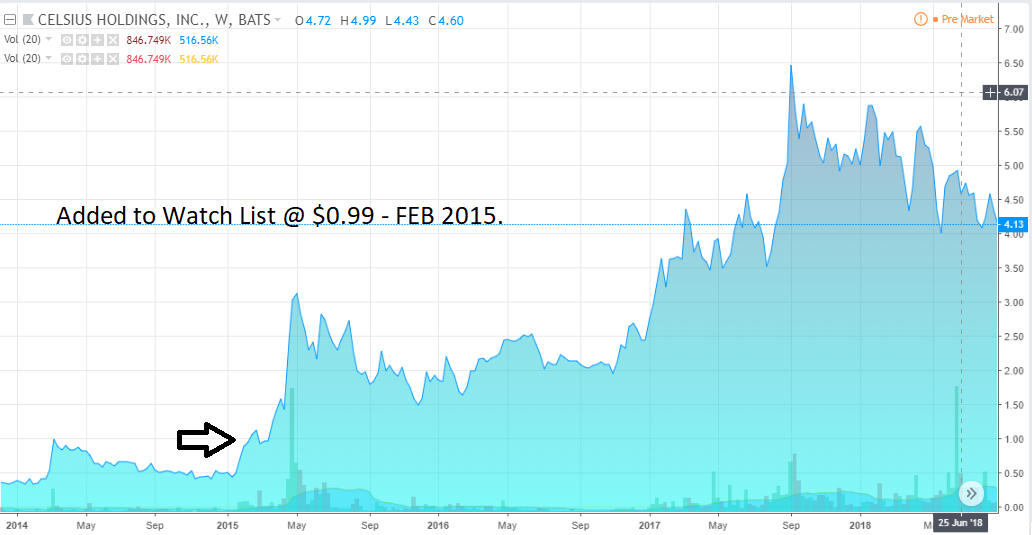 We are adding it to our FOCUS list now that the dust has appeared to settled. 
After hitting a low of $3.05 the shares finished the day at $4.24, off just 5.57% for the session.
With approximately 26X of the average daily trading volume and roughly 22% of the public float short, it may be time for short-sellers to re-think their position.
(BOLD below from BSR Editor).
CONFERENCE CALL:
Thank you, Cameron. Good afternoon everyone and thank you for joining us today. Before I get started, I would like to welcome Edwin Negron Carballo, our newly appointed Chief Financial Officer, who joined up last week. He brings more than 30 years of financial and operational experience to our organization. Edwin is well versed in U.S. GAAP, international financial reporting standards, having worked as a CPA for many years with significant experience in mergers and acquisitions.
We are pleased to have you join our team and look forward to you applying your experience to our operations. Edwin, welcome.
Now, turning to our second quarter. We further advanced our distribution and expansion strategy across all of our regions, in number of large retailers, convenience stores, and new channels of distribution were brought online, both domestically and internationally, further increasing our availability and visibility for our portfolio of premium fitness beverages.
With innovative products and compelling packaging, we have reached more and more consumers each and every day. Our target sales strategies are bringing Celsius to new channels, increasing product availability and our targeted marketing strategies are introducing new customers who are embracing and enjoying our great tasting, proven fitness drinks. Our strategy of positioning Celsius as a global beverage leader for health minded consumers remains our top priority.
Domestically, Celsius continues to gain great acceptance. Revenue increased nearly 30% to a record $8.5 million in the second quarter where we continue to see strong growth in existing accounts, despite a temporary production delay, which caused a significant shift of nearly $1.3 million in sales from the second quarter of 2018 to the third quarter of 2019.
We managed through these timing delays and production and delivery of our product has stabilized. In addition, domestically, we were focused on ensuring we can support our explosive growth in the U.S. market as we continue to optimize our supply chain with multiple co-factors.
We are extremely encouraged by the number of new high quality customers we added to our domestic lineup, including Target, CVS, Food Lion, Hannafords, Menards, Wawa, Circle K, as well as many others. We also had notable expansion in adding over 300 new Planet Fitness locations, further penetrating the fitness channel and we expanded our CELSIUS HEAT to over 25% of all 7-11s nationwide, where our core line is in approximately 50% of national distribution today.
We also rolled out a healthy vending micro-market initiative with a focused dedicated team where we are seeing great opportunity targeting at work location and healthy vending opportunities in this growing channel.
We've entered this new channel with great success and are seeing extremely high velocity rates at these at work locations. We are very excited about the future of this channel, which further aligns with our strategy of continuing to target health-minded consumers where they live, work, and play.
And our military channel. All 3 of our product varieties are now sold in more than 800 exchanges worldwide, including the Army, Navy, Marine Corps, and Coast Guard. Total growth through this channel is now up to 50,000 units per week at the end of the second quarter where just over a year ago, units were running an average about 10,000 units per week in the same period.
Our expansion and target further establishes a nationwide platform for widespread availability. Initially, we launched and gained authorization for 3 SKUs, Sparkling Orange, Peach Mango, and Sparkling Watermelon in more than 1,000 locations of the 1,900 Target stores on the ambient energy shelf in the second quarter where the restarts started to take place.
As the resets took place, we have received reorders. We have received positive feedback and strong consumer demand, and we now expect to add additional flavors in the back half of 2018. Our relationship with Target is a clear sign of the change in consumer demand at shopping patterns, in the grocery and mass channel energy set continue to shift.
Retail buyers are seeking brands that drive traffic and increase sales. Many buyers are carving out new, healthy meets functional energy sets. We are capitalizing on this evolving trend. To that end, our IRI (inaudible) data as of July 15 validates the demand for our products and with retailers that are adding Celsius to the product lines, the convenience store market had over a 42% growth over the trailing 12 months. We were outpacing the category by 12.5x with only a 10% ACV.
These results demonstrate our products are in demand and we are being accepted by today's health minded consumer. In addition, the momentum demonstrates our product had mass appeal. In the Nordic region, the month of May was the best sales month our partners had since first entering the region. The quarter, however, was impacted by orders of Celsius due to timing of flavor launches and a reduction of inventory levels as they transition to a refreshed new look and feel.
We are on track for a solid third quarter as production delivery has returned to more normalized levels. We are encouraged by the near term prospect of adding several new retailers to expand our distribution in Finland and Norway in the back half of 2018, which will further our penetration in those markets.
In China, we had a highly successful selling season by our primary distributor. Due to timing of retailer resets, the channel fill will flow mostly to the third quarter and the second quarter distribution was still primarily from inventory sold to our partner in March of the first quarter. Supporting this growth, we have received reorders and have already fulfilled orders for the first quarter to our distribution partners.
In China, we have nearly doubled the number of stores since last quarter to more than 25,000 locations and we added over 11,000 key accounts. We are now in 45 cities supported by 147 sub-distributors, including key accounts such as Circle K, Lawsons, (inaudible) RT Mart, Vanguard, Metro, Century Mark, and Alibaba's new Hema supermarkets in Beijing.
We are also selling well on jd.com and Tmall. Our marketing activities during the quarter in China included sampling, digital, and events targeting consumers living and active healthy lifestyle, driving trial and interaction.
Some of the events included X-Mudder, an event series in China similar to Tough Mudder, our U.S. partner. In China, we have a distinct advantage. We are producing in country, sourcing all materials locally, and we are supported by local investors and partners. With operations localized, we're able to reduce the impact of tariffs, have a competitive price innovative product, able to gain mass appeal with local partners are able to leverage their experience and networks to increase our speed to market, capitalizing on today's health minded consumer with our trend forward fitness beverage.
We are driving tremendous progress across all of our regions of our business, reaching a broader audience with more products through an increased number of distribution channels. We're very optimistic about our future and the direction we are headed.
In addition to the incremental momentum and expansion, we are also very active, engaging consumers in driving awareness and trial. Our Tough Mudder sponsorship is in full spring in the U.S. During the second quarter, we toured Miami, Texas, Philly, Michigan, Kentucky, Virginia, and Boston. And on average, we sampled over 25,000 to 30,000 people each and every weekend while touring these cities and also through our guerilla sampling events, which continue to cross the U.S.
In addition to consumer sampling, the team also sampled heavily in the trade, attending several events and trade shows targeting vending, colleges and universities, health and fitness, and retail partners. Our digital team continues to leverage our assets and our increasing engagement on all social platforms. In addition, we launched our CELSIUS LIFERS Brand Ambassador program with great success, receiving great interest and support for the program.
We currently have a team of over 300 passionate ambassadors throughout the nations signed up for the program and many are being on-boarded — more are being on-boarded as we speak. This is going to increase our reach, engagement, and influence.
Additionally, in the second quarter, our newest flavor to our core line, a great tasting kiwi guava, was well received, and made it to the shelves of many retail outlets in the second quarter, including 7-11 and many fitness locations. In addition, the new flavor gained interest from many of our customers for its crisp taste, great flavor, and it's perfect and refreshing for the hot summer days.
Also in the quarter, we finalized and introduced in July two new flavors for our convenient on the go powdered sticks. The two new flavors, combined with our clinically proven functional formula, adds coconut and cranberry lemon flavor to our existing power lineup of orange, and berries. These new flavors are available online as well as fitness locations and other fine retailers and adds additional points of availability. Our delicious on the go stick, loved by Celsius fans, allows consumers to enjoy Celsius anywhere.
We are a lean organization capitalizing on today's health and wellness trend, with our innovative portfolio of products with mass appeal. Our brand is resonating with today's consumer and has gained considerable momentum. Our future has never looked brighter.
I will now turn the call over to Edwin Negron Carballo, our Chief Financial Officer, for his prepared remarks. Edwin?
Read Q&A and financial tables here.
Gomes (a talented stock-picker) commented on the call. Really long, best at 1.5x speed.