Founded in Fargo, North Dakota in 2017, ax-water is an all natural, American made, health and wellness beverage taking the US by storm.  Harnessing the power of the aronia berry, ax-water is the brainchild of Blake Johnson, an agricultural and biosystems engineer and Wade Gronwold, entrepreneur and athletic trainer.
Made from all natural ingredients, and containing only 30 calories, ax-water packs all the antioxidant and anti-inflammatory benefits of the aronia berry into 16 oz.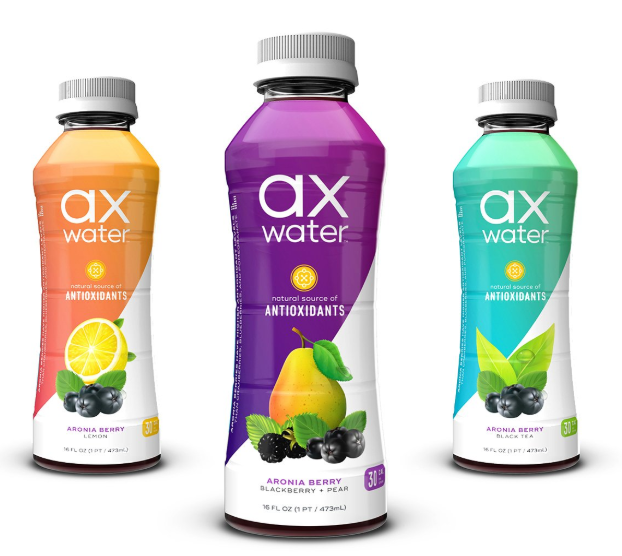 In 2017 at the 14th Annual Zenith Bottle Water Congress in Barcelona, Spain ax-water took home three awards — 2nd place for Best Functional Beverage, 2nd place for Best New Water Concept and 3rd place for Best New Brand/Brand Extension.
In addition, in a survey carried out by a panel of judges at the Zenith Global Water Congress, ax-water was chosen Most Likely to Succeed in the Entrepreneur Panel.
ax-water is a premium health and wellness beverage that provides a natural source of antioxidants that is 100% made in the USA

The benefits of the aronia berry aren't small: Cardiac and digestive benefits, force against free radicals, speed up recovery time after workouts and associated inflammation

Clear, All-natural, No preservatives means that ax-water is great for kids. Plus there's no caffeine!

Low sugar and low calorie (Only 30 calories per serving and 4 grams of sugar)

Doesn't need to be refrigerated due to each bottle being filled with the unique hot fill process that allows for  2-year shelf life

Sample Pack includes one (1) of each flavor
FREE SHIPPING!Visit AX Water