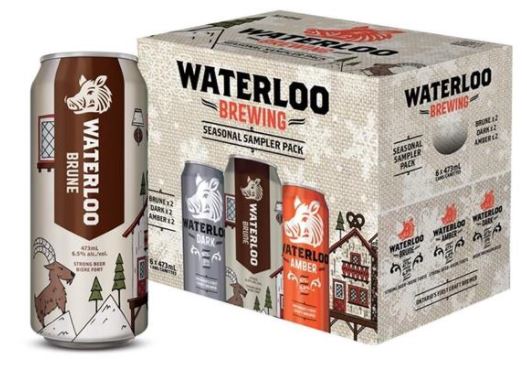 KITCHENER, Ontario, Nov. 16, 2017 (GLOBE NEWSWIRE) — Brick Brewing Co. Limited ("Brick" or the "Company") (TSX:BRB), Ontario's largest Canadian-owned brewery, today announced the release of its Fall Winter seasonal pack from its craft brewing division Waterloo Brewing.
Highlights:
Waterloo Brewing gives Ontario craft beer enthusiasts something to cheers about this fall and winter; a new mixer 6 pack featuring three expertly crafted beers.
Waterloo Brewing is excited to offer along with their dark beer expertise, a seasonal Brune to accompany its internationally recognized and multi-award winning Waterloo Dark and Waterloo Amber.
Waterloo Brune is a true small-batch brew that gets its deep, dark brown colour from its dense, dark roasted robust malts while still delivering a surprisingly sweet, full-flavoured finish that Belgian Abbey style beers are traditionally known for.
"We are Ontario's first craft brewer, founded in 1984 with a beer that stood apart from a category of straw-coloured blandness. Waterloo Dark is the most popular and widely recognized and awarded dark craft beer in Ontario. Brewing great dark beers is at the heart of our expertise, and our passion," declared Russell Tabata, Chief Operations Officer, Waterloo Brewing. "When you look back over the history of making beer it was the monks in medieval monasteries who perfected dark beers to help them make it through Northern Europe's long, cold winters. They were rich, malty ales that tended toward slightly sweet and were spiced to reflect the season. In this year's seasonal pack we are excited to include Waterloo Brune, brewed in the traditional Belgian Abbey style, an absolutely perfect beer for the holidays."
"When we launched our first Waterloo sampler pack in 2014, the response from Ontario beer drinkers was amazing," said Sean Dennis, Director of Marketing for Waterloo Brewing. "So back by popular demand, we're launching this new pack to include three incredible dark beers making this seasonal sampler perfect for long winter nights and as a very special holiday gift, we've included our new Waterloo Brune, only available in this pack and while quantities last," added Dennis.
Available now at the Waterloo Brewing retail store and The Beer Store and at the LCBO in December, just in time for the holiday season for only $16.50 incl. deposit.
About Brick Brewing
Brick is Ontario's largest Canadian-owned brewery. The Company is a regional brewer of award-winning premium quality and value beers and is officially certified under the Global Food Safety Standard, one of the highest and most internationally recognized standards for safe food production. Founded in 1984, Brick Brewing Co. was the first craft brewery to start up in Ontario, and is credited with pioneering the present day craft brewing renaissance in Canada. Brick has complemented its Waterloo premium craft beers with the popular Laker brand.  In 2011, Brick purchased the Canadian rights to Seagram Coolers and in 2015, secured the exclusive Canadian rights to both LandShark and Margaritaville. In addition, Brick utilizes its leading edge brewing, blending and packaging capabilities to provide an extensive array of contract manufacturing services in beer, coolers and ciders. Brick trades on the TSX under the symbol BRB. Visit us at www.brickbeer.com.

Forward-Looking Statements
All statements in this press release that do not directly and exclusively relate to historical facts constitute forward-looking statements as of the date of this press release. Forward-looking statements generally can be identified by the use of forward-looking terminology such as "may", "will", "expect", "intend", "anticipate", "seek", "plan", "believe" or "continue" or the negatives of these terms or variations of them or similar terminology. Although the Corporation believes that the expectations and assumptions reflected in these forward-looking statements are reasonable, undue reliance should not be placed on these forward-looking statements, which are not guarantees and are subject to certain risks, uncertainties and assumptions, which may cause actual performance and financial results to differ materially from such forward-looking statements. The forward-looking statements included in this press release are made only at the date of this press release and, except as required by applicable securities laws, the Corporation does not undertake to publicly update such forward-looking statements to reflect new information, future events or otherwise.
For further information:
Sean Dennis
Director of Marketing
(519) 742-2732 Ext.242
E-mail: [email protected]