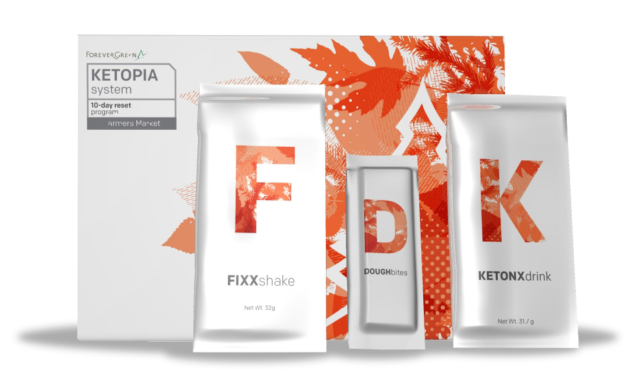 LINDON, Utah, Feb. 1​9​, 2018 /BeverageInvestorWire/ — ForeverGreen™ Worldwide Corporation (OTCQB: FVRG), a global direct marketing company and provider of KetonX, a revolutionary drink product that allows the body to begin converting into a state of nutritional ketosis within a matter of hours, announced today that the Beverage Stock Review has recently ​updated coverage.
"KetonX became an instant hit when released, appealing to the fast-growing Keto Diet audience which is the fastest growing diet sweeping the country," stated Roland Rick Perry, editor of the Beverage Stock Review newsletter and website.
The New Yorker magazine recently reported that while the idea of a ketogenic diet was originally created by Mayo Clinic doctors to treat epileptics in 1923, its popularity as a weight-loss phenomenon has exploded since people started hyping butter coffee — and in the ensuing time, the fad diet has turned into a $5 billion industry.

Adding "ForeverGreen is a turnaround candidate that has recently streamlined operations and cut costs to dedicate focus on the KetonX opportunity. When the Company stated in February that they were formulating a line of products, specifically utilizing CBD for human wellness into the KetonX and many other brands, we took notice of the potential of a 'double-barreled' beverage offering for consumers. We feel combining two of the fastest growing trends, Keto and CBD – which is sold via a dedicated direct marketing sales-force, is force too strong to ignore."
The Beverage Stock Review was launched in March of 2015 and is the only financial site devoted solely to coverage of publicly traded beverage companies. Advisers to the Marijuana and Beverage Stock Review consist of a unique blend of Wall Street and Industry experts, who work in the distribution and retail sector of the beverage industry. This perspective offers the opportunity to quickly identify from the front lines newly developing brands gaining consumer acceptance and market traction as opposed to what might otherwise prove to be a short term fad.

Marijuana Stock Review
Beverage Start-Up News

The report can be found downloaded here.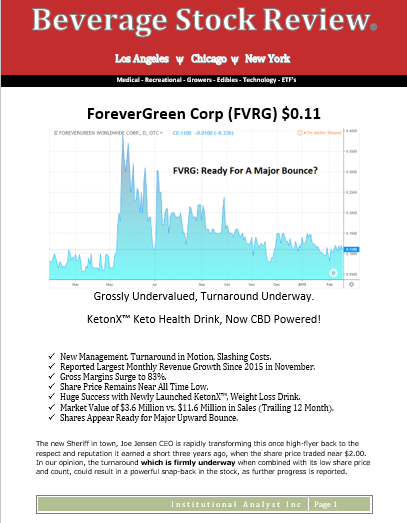 About Institutional Analyst Inc.

Headquartered in Chicago, Institutional Analyst introduces small and microcap companies to professional and high net worth investors. The firm publishes research reports, corporate updates and operates several leading industry-specific investment websites, including the Marijuana Stock Review, the Beverage Stock Review, and Beverage Start-up News. As disclosed in the research report, Institutional Analyst has been compensated by ForeverGreen, Inc. to provide ongoing coverage which is delivered to its subscriber base and made available online.
Updates on ForeverGreen can be received by subscribing to the free newsletter.

About ForeverGreen™ Worldwide Corporation

Empowering a health-conscious community to focus on mindful self-care, ForeverGreen's products, opportunities and ideals reach around the globe to thousands of individuals in over 100 countries. ForeverGreen combines technology, science and ancient resources into products that can be shipped anywhere using a revolutionary envelope model. Despite this successful development, our most important product will always be people; community involvement and good character are the seeds of complete health. ForeverGreen is a publicly traded company based in Lindon, Utah. For more information, visit forevergreen.org. 
Welcome Home!

Forward-Looking Statement 

This press release contains certain forward-looking statements. Investors are cautioned that certain statements in this release are "forward-looking statements" and involve both known and unknown risks, uncertainties and other factors. Such uncertainties include, among others, certain risks associated with the operation of the company described above. The company's actual results could differ materially from expected results.
Contact:

Joe Jensen+1(801)-655-5500
[email protected]
Brokers and Analysts:Chesapeake Group
+1-410-825-3930
[email protected]
SOURCE ForeverGreen Worldwide Corporation