The demands of productivity are growing at an increasing rate, and at a cost of sacrificing the fidelity of our own minds.People are competing amongst themselves and against technology in the workplace. It's a struggle to keep up. Most will turn to a quick-fix like coffee, sugary energy drinks, or even drugs like Adderall to keep a grip on that elusive competitive edge.
Overconsumption of any of these things comes with its own dangers. But what if there were a natural and healthy alternative out there within an emerging market, headed by a Company that already has products available to the public?
Aptly named after the Greek Titan god of intellect, Koios Beverage Corp. (CSE: KBEV, OTC: SNOVF, Forum)  is a functional beverage Company with an available distribution network of more than 2,000 retail locations across the United States, and with distribution relationships that represent over 80,000 potential locations. Its reach touches sports nutrition stores to large national grocery chains. Through its partnership with natural foods outlet Wishing-U-Well, Koios also has a large online presence as an Amazon Choice product. In addition to its line of delicious-tasting beverages, Koios offers mix powder products and capsules.
The Denver, Colorado Company went public on the Canadian Securities Exchange earlier this month. What sets this brand apart is that its line of beverages and powders are made with 11 natural ingredients, combined to energize and enhance the brain in a way that a jolt of sugar never could.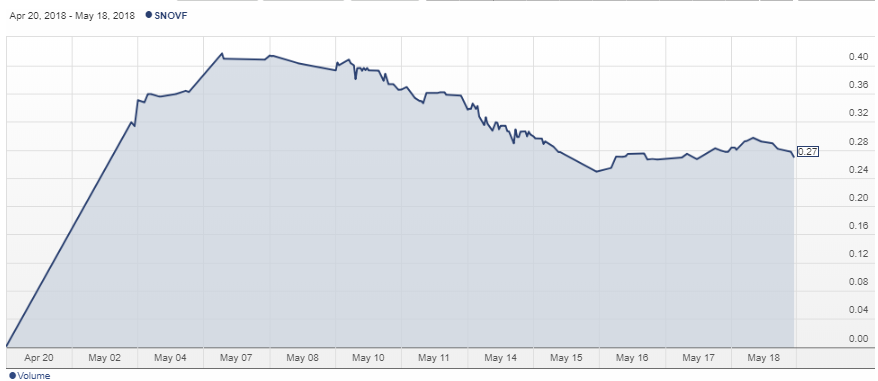 Its ingredients have been shown to support brain function by increasing blood flow, oxygen levels and neural connections. The benefits are numerous:
Enhanced focus
Improved concentration
Enhanced Mental capacity
Boosted Memory retention
Heightened Cognitive function
Sharpened Alertness
Increased Brain capacity
All-day mental clarity
A key ingredient is MCT Oil, which is derived from coconut oil and has been hailed by researchers as a nitrous boost for the brain without the burnout. Koios is one of the only beverages on the market to infuse its products with MCT oil, which has been shown to help the body burn fat more effectively, create lasting energy from a natural food source and produce ketones in the brain, allowing for greater brain function and clarity. MCT oil also supports healthy hormone production and improves immunity. It is an important ingredient in the burgeoning nootropic market.
Nootropics are compounds found in supplements and beverages that provide energy and clarity while elevating mood and sustaining brain growth over time. Koios aims to be a leader in this space by bringing nootropics to consumers in its line of beverages and powders, replacing short-term options like coffee or energy drinks.
Nootropics: A Clarity Through the Fog
One in three Americans suffer from some type of mental disorder, including anxiety. While more than 80 per cent of Americans will turn to a caffeinated beverage to cut through the mental cobwebs, the shortcomings of caffeine outweigh its benefits. A caffeine addiction is actually classified as a type of mental disorder. People struggle to overcome this addiction, but the high pace in the workforce means people often use any advantage they can get their hands on.
Company CEO and Founder Chris Miller spoke with Stockhouse Editorial about the future of the nootropics market and the benefit Koios blends offer the mind as an energetic alternative.
"Coffee is an old technology and Adderall is a drug. Our products are in-between. It gives enhancement to brain functions but is natural and tastes good."
In 2015, the global nootropics market was valued at more than $1 billion (USD) and is expected to reach $6 billion by 2024, expanding at a CAGR of 17.9 per cent.

Tapping greater potential within the mind has been the stuff of movies like Limitless, but research is discovering that such enhancements could actually be possible. Elon Musk formed the company Neuralink to look into brain augmentation and some of the brightest minds in Silicon Valley have dabbled in microdosing LSD to improve productivity. These are, of course, extreme examples where Koios' mission is to take mental augmentation to the masses.
A New Formula – Functional Beverage, not an Energy Drink
Koios uses a proprietary blend of nootropics and natural organic compounds to enhance human productivity without using harmful chemicals or stimulants.
Working with food scientists in the U.S., Koios developed a proprietary drink formula that tastes good, stimulates short-term cognitive function and supports memory over the long term. These energizing effects are achieved and sustained through electrolytes mixed in its blends. This negates the dreaded "2 p.m. crash" many in the workplace run into like a brick wall, forcing them to crawl back to the coffee pot (or Diet Coke) for another surge. Like Adderall, over-reliance on caffeine degrades the brain over time, ruining adrenal functions. Koios' products feed the brain what it wants and condition it like any other muscle in the body.
Two nootropic superfoods in its blend that stand out to boost these functions are:
Lion's mane mushroom, which Whole Foods recently listed as a trending ingredient in its 2018 functional ingredients guide
L-Theanine, an amino acid that has calming effects on the brain
New flavours just hitting the market include: Pear Guava, Pomegranate Acai, Peach Mango and Blood Orange.
Not content to rest on its laurels, Koios recently made news by launching a wholly-owned subsidiary – Cannavated Beverage Co. – to produce cannabis-infused beverages. These drinks will have the nootropic health benefits and target medical cannabis users. Longer-term plans include partnering with licensed producers, cultivators and other regulated cannabis companies who want to sell their own line of cannabis drinks. By entering into a "white labelling" turn-key agreement, companies will be able to sell Cannavated drinks under their own brand names and labels.
Koios is also working with a Denver, Colorado-based firm doing clinical tests with brain scans showing how its beverages light-up the brain's prefrontal cortex on people young and old. Results are expected near the end of July 2018.
Taking the eSports Relationship to the Next Level
Precise focus and instant reflexes. These are two qualities promoted by Koios' products that are highly appealing to players in the world of competitive gaming, more popularly known as eSports. The Company is actively pursuing a relationship with eSports players, because unlike the other products on the market, Koios offers something that can properly boost players' games.
Business Insider valued the eSports market at around $900 million in 2017, noting that the record for the largest prize pool in its history was broken last year at more than $24 million. That's more than both of the highest-paid NHL players in 2017 combined.
A New Choice for a New Generation of Consumers
image: http://www.stockhouse.com/media/topstories/Misc/Koios07.jpg
There is a solid financial foundation under Koios' operations. The Company recently closed a non-brokered private placement, raising gross proceeds of more than $2.3 million from the placement of 11.9 million shares at a price of 20 cents a share. The net proceeds from financing will allow Koios to start producing its next-generation products through advanced research and development.
Koios intends on expanding its product line to meet consumer demand and to be more competitive on store shelves. It is working to expand its current sales force to capitalize on retail growth and drive bottom line revenue.
Some of the world's largest beverage companies are taking notice of nootropics. In 2016, the Dr. Pepper Snapple Group bought functional beverage producer Bai Brands, for $1.7 billion. That same year, Pepsico bought out Kevita for $200 million. There is also the trend of beer companies buying up smaller natural beverage companies.
It's a similar destiny Chris Miller wants to see for Koios.
"One of our goals is to make enough noise, generate enough revenue and build such a solid brand and company, that one ofimage: http://www.stockhouse.com/media/topstories/Misc/Koios03.jpg
the majors buys us out or we do a massive distribution deal."
The Company is eyeing a strategic relationship within five years. Until then, Koios will continue working with partners and doing in-store demos, a road tour planned for later this year and adding another 3,000 to 4,000 locations in the next 15 months.
"If you're in Colorado and you're in natural food, its like being in Silicon Valley during the tech boom. There's a huge push right now for organic functional products with companies with a story." 
There is a huge need for brain supplementation, whether it's biotechnological, supplemental, herbal or medicinal. There is also a serious demand for creating higher-levels of cognition, for producing more output from our minds.
Koios Beverage Corp. is capitalizing on the emerging nootropic market with a product that is easily accessible and all-natural. Chris Miller compares the nootropic space to being at the forefront of the internet boom in the mid 1990s.
Investors of all types think about their daily mental performance. Keeping ahead of the curve may be more challenging than ever … but imagine getting ahead of the entire race by backing a leader in the functional beverage industry.


FULL DISCLOSURE: Koios Beverage Corp. is a paid client of Stockhouse Publishing.