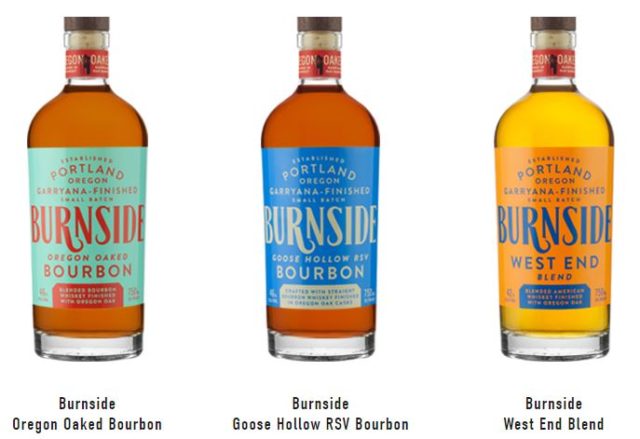 3 MONTH CHART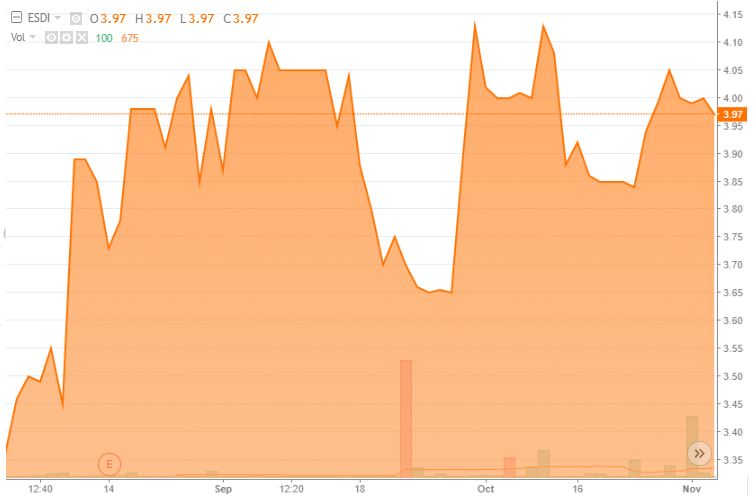 PORTLAND, Ore.–(BUSINESS WIRE)–Eastside Distilling, Inc. (NASDAQ: ESDI) ("Eastside" or the "Company"), a producer of award-winning craft spirits, today announced first deliveries of its new Burnside Goose Hollow Reserve.
Raises $6.2 Million in August.
Burnside Goose Hollow Reserve is the creation of Eastside's Master Distiller Mel Heim. The Goose Hollow Reserve is a limited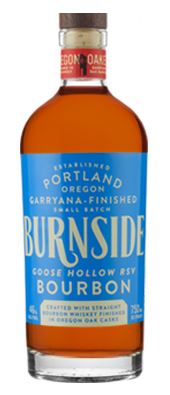 bottling expression of Straight Bourbon Whiskies that are meticulously blended and aged in Garryana Casks. Eastside aptly dubbed this bourbon "Goose Hollow" after the storied Portland neighborhood that was officially established with this moniker in 1879—the same time the term bourbon became consistently used in the U.S. and Kentucky. Goose Hollow is nestled in the lower elevations of Portland's West Hills near Tanner Creek, a forested lowland gulch on the SW side of the city. The Goose Hollow blend itself is earthy, woody and dense and localized with the use of glorious Oregon oak.
Mel Heim elaborated, "On the nose you should smell a robust oak, pine mixed with smoky coals. Once aerated, notes of fruitcake, apricot and caramel begin to be released. You will taste the unflinchingly 92 proof which undergoes a metamorphosis on the palate from peppery wood and bitter chocolate to tobacco, plums and vanilla. We think if Goose Hollow had an official flavor that this would be it."
The bourbon is showcased in the vibrant new look of the Burnside Bourbon family of individually screen-printed bottles, designed in Portland by spirits branding firm, Sandstrom Partners, and produced locally.
You can find the new Burnside Bourbon at numerous locations throughout Oregon, or at one of Eastside Distilling's Tasting Rooms.
About the History of the Goose Hollow Neighborhood of Portland
Goose Hollow is one of the oldest and most historic neighborhoods in Portland, bordering what is now Burnside Street. It first referred to a hollow around Tanner Creek (named in the 1830s for the first tannery west of the Rockies). The creek carved out the deep, meandering hollow and then headed east, crossing today's Burnside, and towards the Pearl District and parts of Old Town and Chinatown. In the early days of the city, there were Native American encampments in the hollow near today's Alder Street, and women sold baskets, kindling, and berries. From 1870 to 1909, Chinese farmers rented land in the hollow. Portland's merchant/capitalist class—some German, some Jewish refugees from Eastern Europe, some British—built homes in the heights that are now part of Goose Hollow. The area around the hollow was populated by settlers from the East and other immigrants, many from Ireland, and it is now the home of more than one Irish Bar.
According to our source, the Oregon Encyclopedia, Police Chief James Lappeus is credited with naming the neighborhood Goose Hollow in the 1870s. At that time, flocks of geese were allowed to run freely through the neighborhood and in the hollow. Local housewives would feed them and treat them as their own, personal "protein source" with predictable consequences. The Chief's inspiration was a ruckus that occurred when a police officer responding to a fight between neighborhood women over ownership of geese was himself assaulted.
Because "Hollow" as a place name had "down market" and even disreputable associations, in 1911 the blue-nosed Oregon State legislature attempted change it to "Paradise Valley." The bill was narrowly beaten back, just like Chief Lappeus's patrolman. So, we proudly name our reserve bourbon, aged in Oregon oak, in honor of these forebears and their neighborhood. We applaud the Portlanders who successfully resisted this effort to change our history by renaming a place so rich in character.
Since the mid-1970s, the place name Goose Hollow applies to the flats and adjacent heights—King's Hill, Vista Ridge, and Gander Ridge—and canyons—Tanner Creek Canyon and Cable Car Canyon. All are in Goose Hollow.
About Eastside Distilling
Eastside Distilling, Inc. (NASDAQ: ESDI) is located in Southeast Portland's Distillery Row, and has been producing high-quality, master-crafted spirits since 2008. Makers of award-winning spirits, the company is unique in the marketplace and distinguished by its highly decorated product lineup that includes Barrel Hitch American Whiskies, Burnside Bourbon, Below Deck Rums, Portland Potato Vodka, and a distinctive line of infused whiskeys. All Eastside spirits are master crafted from natural ingredients for unparalleled quality and taste. The company is publicly traded under the symbol NASDAQ: ESDI. For more information visit: www.eastsidedistilling.com or follow the company on Twitter and Facebook.
Important Cautions Regarding Forward-Looking Statements
Certain matters discussed in this press release may be forward-looking statements. Such matters involve risks and uncertainties that may cause actual results to differ materially, including the following: changes in economic conditions, general competitive factors, acceptance of the Company's products in the market, the Company's success in obtaining new customers, the Company's success in product development, the Company's ability to execute its business model and strategic plans, the Company's success in integrating acquired entities and assets, and all the risks and related information described from time to time in the Company's filings with the Securities and Exchange Commission ("SEC"), including the financial statements and related information contained in the Company's Annual Report on Form 10-K and interim Quarterly Reports on Form 10-Q. Examples of forward-looking statements in this release may include statements related to our strategic focus, product verticals, anticipated revenue, and profitability. The Company assumes no obligation to update the cautionary information in this release.