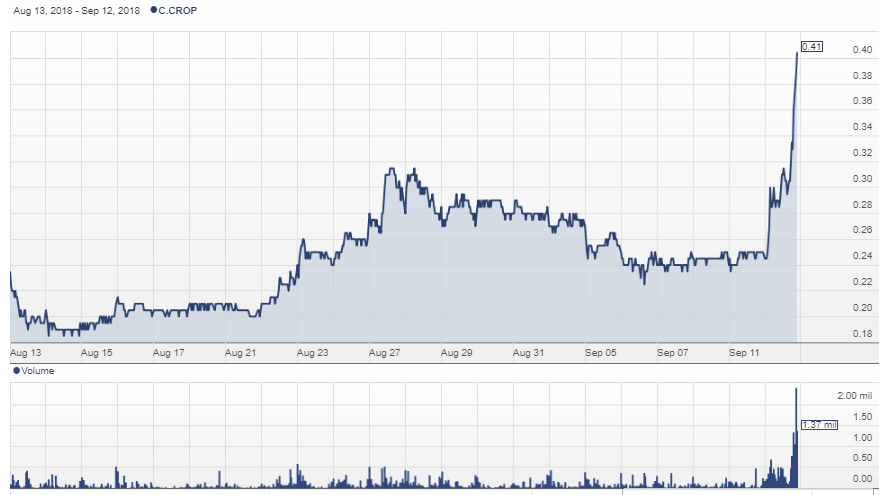 Crop Developing Cannadrink CBD-Infused Beverages
VANCOUVER, British Columbia, September 13, 2018 /PRNewswire/ —
CROP Infrastructure Corp. (CSE: CROP) (OTC: CRXPF) announced today it is developing a new cannabis-infused line of soft drinks. Called 'CANNADRINK', the beverage will be developed to be a zero calorie, non-GMO, ketogenic-friendly line of soda pop, and will include tea and coffee versions.
The global carbonated soft drinks market is projected to reach USD 605.6 Billion by 2025, according to a March 2018 report by Grand View Research, Inc.
CROP Infrastructure Director and CEO, Michael Yorke, stated: "The cannabis-infused beverages market has attracted the attention of world class beverage companies as legalization spreads.  We see it as a tremendous opportunity for CROP Infrastructure's branding & IP portfolio and as an axillary opportunity for each of our cultivation tenants Globally.
"The global soft drink market, in another study, is forecast to grow at a CAGR of 5.62% through to 2021. It is also going sugar free. Studies from the World Health Organization have shown that a simple can of carbonated soda drink can contain over 40 grams of sugar,  equivalent to 10 teaspoons of table sugar. As an example, Britain's sugar tax has forced many soft drinks companies to re-evaluate the sugar content of their soft drinks and are developing new low or reduced-sugar beverages with additional claimed health benefits, in response to consumer demand.
"Functional beverages are a new class of products that offer beyond basic nutritional ingredients including vitamins, minerals, herbs, amino acids and probiotics. We believe that cannabis's medically known benefits will enhance our own formulations, so we are bang on target with our CANNA DRINK line," concluded Yorke.
Follow CannaDrink on Instagram & Twitter.
Other Articles/Sites of Interest:
Marijuana Drinks on Leafly.(Leafly)
These marijuana drinks are trying to replace your favorite beer. (EatSipTrip)
Top Cannabis Drinks. (TracelJoint)
12 Best Cannabis-Infused Drinks And How To Make Them (High Times).
Forget Kombucha and Coconut Water. Cannabis Is the Next Beverage Trend (Inc).