$ABRW Signs Merger Agreement with $50 Million New Age Beverages (NBEV).
"We can take the position as a world leader in healthy, functional beverages,"Brent Willis, Buca Inc CEO.
While a merger can mean the end (of independence) for many small and fast-growing beverage companies which get swallowed up by larger players, Bucha Inc's merger heralds a new beginning in the fast-growing healthy, functional beverage category.
With a gain of 46% yesterday, we are up 209% from when we added it to the watch list last year and it has jumped to the top of our best performer list.
REPORT: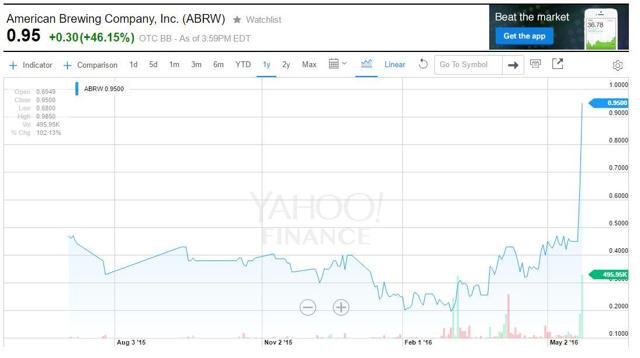 What spurred the recent interest was news of an acquisition announced by Brent Willis CEO (as of March 2016) who was formerly CEO for Cott Corporation, the world's largest retailer brand beverage company, as well as President for AB InBev, and member of the Board of Directors for AmBev, which acquired Anheuser-Busch in 2008 for $52 billion.
Growth by acquisition is his well-known forte and we feel newly renewed interest in the stock, is more related to the company being looked at as a new "growth-by-acquisition" play – as opposed to the announced acquisition itself.
Anyone who knows the beverage industry knows it is in a constant and ongoing state of merger and acquisition activity, with numerous opportunities to catch young upcoming brands. It's particularly ripe for mid-sized acquirers such as Buca Inc., prior to their getting on the radar multi-billion dollar players.
We also feel a need to finance future transactions will bring the company new attention from Wall Street, which earns a majority of their revenues via investment banking. Future potential news of aligning with a well-known broker/dealer could spur the shares considerably higher, as the street would look at the company as an entity which has an experienced merger CEO at the helm and the money – a war chest – to implement their plans.
In our opinion investors on the sidelines would be well advised to be involved prior to such news.
In a conference call Willis stated when asked why he joined the company (April 2015):
"I was asked to join the Board of Directors of the company and to take on the Interim Chief Executive Officer role, and last week I decided to do so."
"Why? Well, I did my due diligence and had others do some for me too and the conclusion was this is a massive opportunity. I never do anything small, and we used to have a saying at AB InBev, that it is as much work to do something, as it is to do something huge – so you might as well go big. No one on the planet believed that we could take a small little Belgian brewer that no one had ever even heard of, and make it into the world's largest but we did against some pretty strong competitors. This opportunity, with Bucha Live Kombucha, won't go from $2 Billion to $100 Billion like InBev, but there is no question in my mind that this brand, in this category, in this window of opportunity, is an absolute winner."
With regards to the acquisition, the following was revealed in an extensive company-issued press release, which needs little in the way of embellishment, which we'll do in an upcoming report:
$ABRW, $NBEV
We received one hundred thousand shares from the company for Investor Relation services more fully explained in the report.