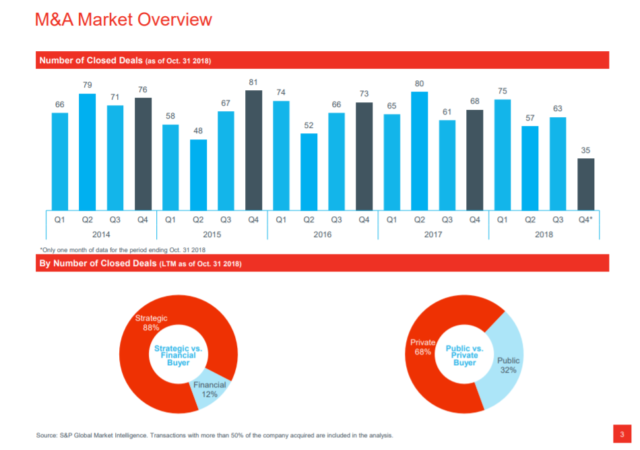 Mergers and acquisitions (M&A) deal activity in the Food and Beverage industry remains active, with 271 deals closed over the last 12 month (LTM) period ending Oct. 31, 2018. Although M&A activity has not slowed down, the market has not seen any multibillion-dollar transactions closing since our Summer 2018 report.
The largest transaction was the acquisition of Keystone Foods by Tyson Foods, which valued the company at $2.4 billion. Other large transactions include Keurig Dr Pepper's $525 million acquisition of Core Nutrition LLC, a producer of organic beverages and bottled water and Amplify Snack Brands' $420 million acquisition of Pirate Brands LLC, a manufacturer of snack products.
M&A activity in the Food and Beverage industry is still predominately driven by strategic buyers (including companies primarily owned by private equity investors), with strategic transactions representing 88% of total deal flow over the LTM. Of the 271 deals closed in the past 12 months, 185 (68%) were completed by privately owned buyers.