8K Filing, March 2019 presentation. In addition, the 2019 financial outlook is furnished below.
2019 Financial Outlook
For our fiscal year ended March 31, 2019, we forecast total revenue in the range of between $31.0 million and $33.0 million, representing an increase of between 56% and 66% over the year ended March 31, 2018.

Our forecasted revenue is based on our expectation that revenue growth will remain consistent for the 4th quarter of fiscal 2019 and that significant sales growth will continue in Southern California and that significant orders will be received from the national-retailers and the east coast grocery chains, which have only recently started selling our products. In addition, we assume that we will continue to be able to add co-packing plants and production capacity to satisfy customer demand.
As our sale cycle is only 7 to 14 days, a slowdown of the growth in any of the areas set forth above during the final month of the 4th quarter of fiscal 2019 or other events could cause actual results to vary materially from this forecast. In addition, sales growth, which may have a significant impact on quarterly and annual revenue, is difficult to predict.
Our Business
Overview
We offer retail consumers bottled alkaline water in 500-milliliter, 700-milliliter, 1-liter, 1.5 -liter, 3-liter and 1-gallon sizes under the trade name Alkaline88 ® . Our product is produced through an electrolysis process that uses specialized electronic cells coated with a variety of rare earth minerals to produce our 8.8 pH drinking water without the use of any manmade chemicals. Our product also incorporates 84 trace minerals from Himalayan pink rock salt. Our product is designed to have a clean smooth taste using only purified water and the Himalayan pink rock salt. We believe consumers drink our water because of the taste profile and the preconceived health benefits (although we do not market our products as having any potential health benefits), as well as because of our brand and trademark, which we believe is one of the most easily identifiable in the category. Measured by sales volume in 2018, we believe we are now one of the largest alkaline water companies in the United States.
Our product is presently available in all 50 states and the District of Columbia, although over 50% of our current sales are concentrated in the Southwest and Texas. We distribute our product through several channels. We sell through large national distributors, including UNFI, KeHE, C&S, and Core-Mark. We also sell our product to retail clients, including convenience stores, natural food products stores, large ethnic markets and national retailers. Examples of our retail clients include Walmart, Food Lion, Albertson's, Safeway, Kroger, Schnucks, Smart & Final, Jewel-Osco, Sprouts, Bashas', Stater Bros. Markets, Unified Grocers, Bristol Farms, Vallarta, Superior Foods, Ingles, HEB and Brookshire's. The majority of our sales to retail clients are through brokers and distributors, however, sales to our larger retail clients are often direct to the client's own warehouse distribution network.
Our operating subsidiary operates primarily as a marketing, distribution, and manufacturing company. It has entered into co-packing agreements with eight different bottling companies located in Virginia, Georgia, California, Texas, Nevada and Arizona to act as co-packers for our product. Our current capacity at all plants exceeds approximately $8.3 million per month wholesale.
Archpoint Group, a business and marketing consulting firm and sales broker, has been engaged to assist our company in all aspects of our marketing, trade promotion and brand development. Their expertise in all aspects of consumer goods brand development, marketing and promotional programs is expected to help us meet the growing consumer demand for both our flagship Alkaline88 ® product and our upcoming A88 Infused product line. Water Source One, a producer of private labeled bottled water, has been engaged to assist in the manufacturing, procurement and logistical aspects of our business. Their specialized water production capabilities companies is expected to allow us to support the growing demand for our products. We believe this arrangement will enable us to further scale production and distribution as the Alkaline88 ® brand continues to gain market share. E.A. Berg, a sales and merchandising broker, has been engaged to implement a unique "Van Program" (where sales representatives sell products directly from vans to the retailers) throughout Texas and California which is intended to bring both our flagship Alkaline88 ® products and, once launched, A88 Infused's products to over 13,000 independently owned convenience stores in those markets. We expect to be able to expand the program to an additional nine US markets over the next few years. Our component materials are readily available through multiple vendors. Our principal suppliers are Vav Plastics Inc., Amcor Inc. and Packaging Corporation of America. The electrolysis process through which our product is produced is proprietary to us and, while the process is not patented, we seek to protect the process through the maintenance of trade secrets and know-how.
---
4
A88 Infused Beverage Division, Inc.
In August 2018, we formed A88 Infused Beverage Division, Inc., or A88 Infused, a Nevada corporation and a wholly owned subsidiary of our company. A88 Infused's focus is brand extension and product innovations in the wellness water category. We formed A88 Infused to meet what we believe is increasing consumer demand for enhanced and functional (value-added) beverages. We expect A88 Infused to capitalize on this and potential consumer demand with the development and launch of new products focused on growing trends in the beverage space.
To prepare for the launch of products by A88 Infused, we have expanded our packaging capabilities. We announced in January, 2019 that Nevada-based Western Group Packing has agreed to produce A88 Infused's flavored Alkaline88 ® water products and its planned hemp extract-infused water product at its 150,000+ square feet facility located in North Las Vegas, NV. We have received verbal confirmation from many of our current retail clients of their interest in purchasing our flavored Alkaline88 ® waters. The production of A88 Infused's planned hemp extract product is contingent on U.S. Food and Drug Administration, or the FDA, and state laws, regulations, and guidance. While the Agriculture Improvement Act of 2018 removed hemp from Schedule I of the Controlled Substances Act, the law did not change FDA's authorities with respect to food or drugs. As of February 28, 2019, the FDA has not made a determination that the use of hemp extract in food is safe. FDA has evaluated Generally Recognized as Safe (GRAS) notices for three hemp seed-derived food ingredients and determined that the agency has no questions that those ingredients are GRAS under their intended conditions of use.
In early February 2019, at the Convenience EPPS trade show in Chicago, Illinois, we sampled and offered up for sale "Alkaline88 ® Flavored," which is available in five different, all natural, sugar-free flavors. We believe "Alkaline88 ® Flavored" is the first flavored bottled alkaline water to be sold in the United States.
A88 Infused is also developing and preparing for the initial launch of its planned hemp extract product, which will be marketed under the trademark Soothe™ . In the event FDA issues appropriate regulations or guidance or determines that it has no questions that hemp extract is GRAS under intended conditions of use that would permit A88 Infused to market hemp extract in water without food additive approval, we expect to produce and sell Soothe™ as both a sparkling water in cans and as still water in bottles. We may also decide to market Soothe™ if a supplier meets and complies with FDA's GRAS regulations with respect to a self-certification regarding the safety and GRAS status of the use of hemp extract. We expect to produce Soothe™ as a low calorie or no calorie, hemp extract-infused water in five flavors. We may change the composition of our planned hemp-extract-infused product as necessary to comply with federal, state or local laws, regulations or guidance.
We intend to comply in full with all federal, state, and local laws, rules and regulations as we develop our hemp extract alkaline water and other product lines. We will not pursue the production or sale of hemp extract-infused products until legally permitted.
---
Plan of Operations
In order for us to implement our business plan over the next 12 months, we have identified the following milestones that we expect to achieve:
Expansion of Broker Network – We expect to continue to develop our working relationship with our national broker network. We continually meet, train, and go on sales call with our national broker network in order to take advantage of the momentum currently being created by their efforts. We anticipate a considerable amount of travel and ongoing expenses at an estimated cost during that time of $300,000.
Increase Manufacturing Capacity – (i) Flagship Alkaline88 product: we expect to add one to two new co-packer facilities, strategically located to reduce freight costs and meet current volumes and future growth objectives; and (ii) A88 Infused: we expect to add three to five new co-packer facilities strategically located to meet anticipated volumes by product type and future growth objectives.
Expand Retail Distribution – We continue to expand our retail presence. The cost of this retail expansion over the next 12 months is expected to be up to $1,000,000.
Addition of Support Staff – In order to support expansion efforts and to continue the training and support of our broker network, we anticipate that we will need to hire approximately four more people on the corporate level for the specific purpose of supporting the broker, distributor and retailers and their logistical and accounting requirements. We continue to seek and interview candidates to fill our growing need for additional staffing. The additional cost of these new hires is expected to be approximately $450,000 in salary and benefits over the next 12 months.
Capital Considerations – Our business plan can be adjusted based on the available capital to the business. We anticipate that approximately $1,000,000 is necessary in the near term in order to build out a national presence for our product and to allow for the purchase of the necessary equipment and facilities over the next 12 months. To fund our expansion in the longer term, we anticipate that we need at least $4,000,000 during the next 12 months.
International Expansion – We expect to begin selling internationally, including Canada, over the next 12 months and have budgeted $160,000 towards our initial efforts.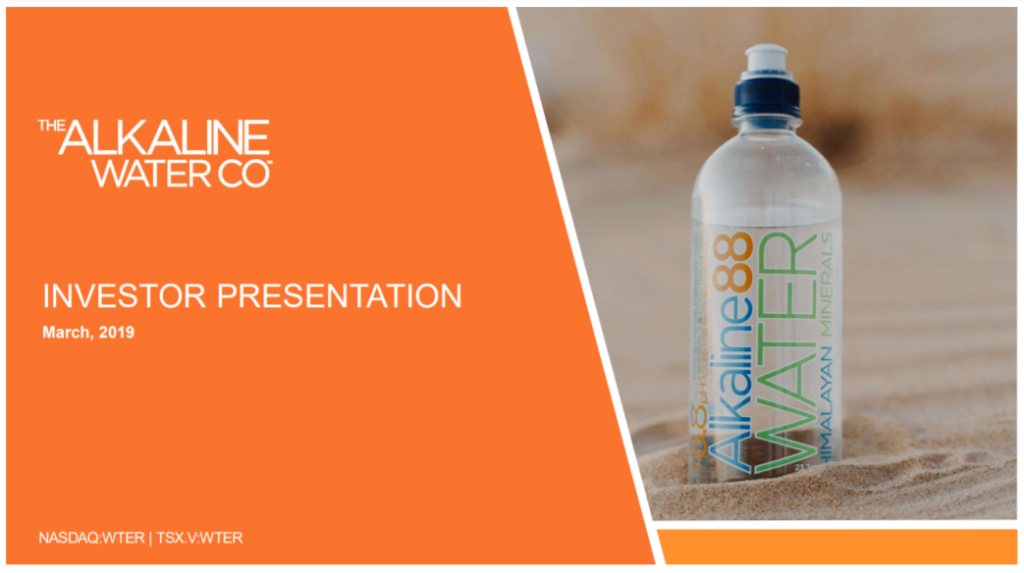 The milestones set forth above, including the estimates with respect to expenses and capital needs, and the assumptions upon which they are based, reflect our current judgment and belief regarding the direction of our business. Actual events, expenditures and results will almost always vary, sometimes materially, from any estimates, predictions, projections or assumptions suggested herein.
We believe that cash flow from operations will not meet our present and near-term cash needs, including those relating to our engagements of Archpoint Group, Water Source One and E.A. Berg, and our cash needs for the above milestones over the next 12 months and thus we will require additional cash resources, including from the sale of equity or debt securities, to meet our planned capital expenditures and working capital requirements for the next 12 months. If our own financial resources and future cash-flows from operations are insufficient to satisfy our capital requirements, we may seek to sell additional equity or debt securities or obtain additional credit facilities. The sale of additional equity securities will result in dilution to our stockholders. The incurrence of indebtedness will result in increased debt service obligations and could require us to agree to operating and financial covenants that could restrict our operations or modify our plans to grow the business. Financing may not be available in amounts or on terms acceptable to us, if at all. Any failure by us to raise additional funds on terms favorable to us, or at all, will limit our ability to expand our business operations and could harm our overall business prospects.
In accordance with General Instruction B.2 of Form 8-K, the information in Item 7.01 of this current report on Form 8-K, including Exhibit 99.1, is being furnished and shall not be deemed to be "filed" for purposes of Section 18 of the Securities Exchange Act of 1934 (the "Exchange Act" ), or otherwise subject to the liabilities of that section, and shall not be incorporated by reference into any registration statement or other document filed under the Securities Act of 1933 or the Exchange Act, except as shall be expressly set forth by specific reference in such filing.
Forward-Looking Statements
This current report on Form 8-K contains forward-looking statements which relate to future events and/or our future financial performance. In some cases, you can identify forward-looking statements by terminology such as "may", "should", "expect", "plan", "anticipate", "believe", "estimate", "predict", "potential" or "continue" or the negative of these terms or other comparable terminology. Such forward-looking statements include, among other things, our forecasted revenue for our fiscal year ended March 31, 2019. Forward-looking statements are based on material factors and assumptions made by our company in light of management's experience and perception of historical trends, current conditions and expected future developments, as well as other factors that we believe are appropriate in the circumstances, including but not limited to, general economic conditions, product pricing levels and business competition, supply constraints, legal and regulatory requirements to which our products are subject, the timing and success of new product introductions, our expectations regarding our business, strategy, opportunities and prospects, including our ability to implement meaningful changes to address business challenges, and our expectations regarding the cash flow from operations. These statements are only predictions and involve known and unknown risks, uncertainties and other factors, including the risks in the section of this current report on Form 8-K entitled "Risk Factors", uncertainties and other factors, that may cause our company's or our industry's actual results, levels of activity, performance or achievements to be materially different from any future results, levels of activity, performance or achievements expressed or implied by these forward-looking statements.
---
While these forward-looking statements, and any assumptions upon which they are based, are made in good faith and reflect our current judgment regarding the direction of our business, actual results will almost always vary, sometimes materially, from any estimates, predictions, projections, assumptions or other future performance suggested herein. We caution you not to place undue reliance on any such forward-looking statements, which speak only as of the date made. Except as required by applicable law, including the securities laws of the United States and Canada, we disclaim any obligation subsequently to revise any forward-looking statements to reflect events or circumstances after the date of such statements or to reflect the occurrence of anticipated or unanticipated events.
Item 8.01 Other Events.
Our updated business summary and risk factors are set forth above: